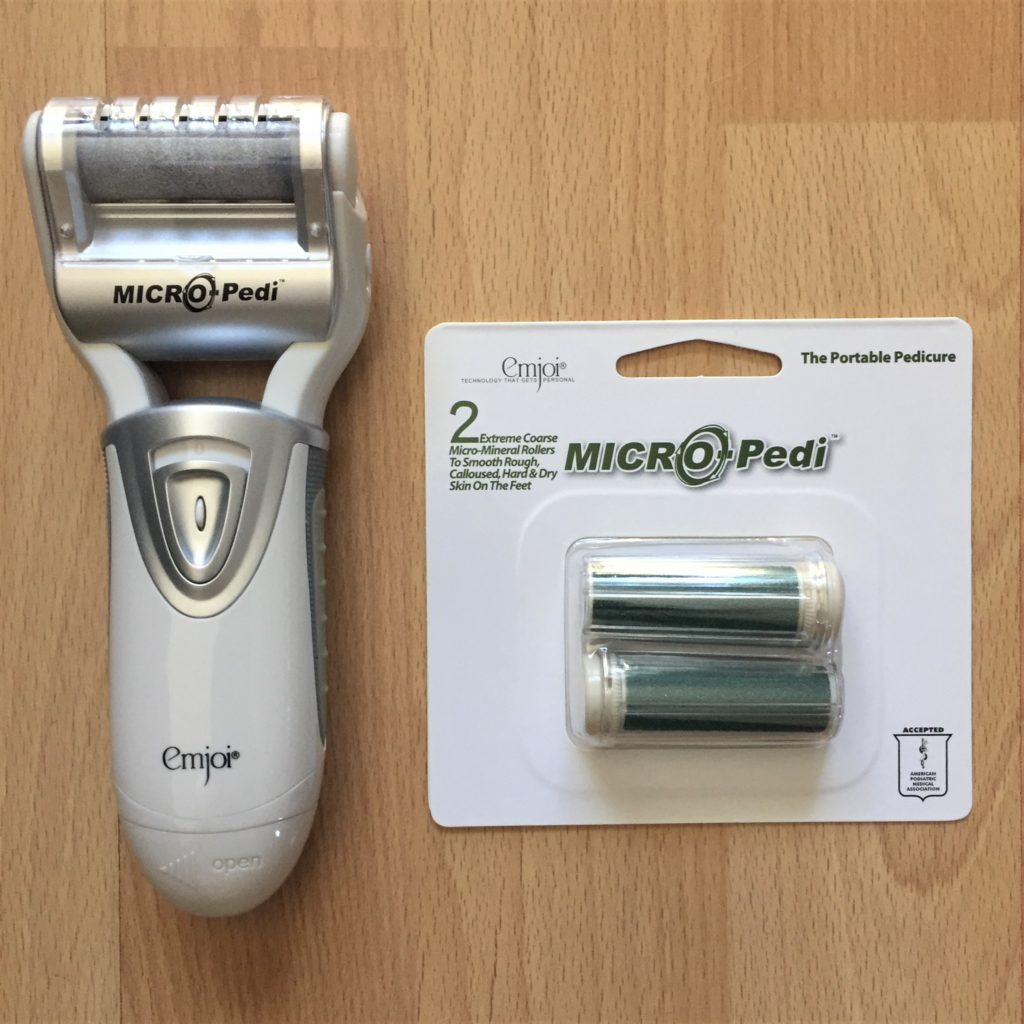 Last year, I reviewed the Emjoi Micro-Pedi as I got my feet ready for summer sandals and strappy heels (post here).  Recently, I received an awesome add-on accessory: Extreme Coarse Micro-Mineral Rollers!  These rollers are amazing at smoothing out the roughest part of my feet, which are my heels and calluses that develop at the balls of my feet.  After working on those parts of my feet, I then switched to the regular rollers to completely smooth out my feet all over.  With the Micro-Pedi, I've got all I need to give myself a complete pedicure at home!
I also asked my sister to give me her thoughts on the Micro-Pedi, because I've been talking it up so much that she wanted to try it herself.  But to really test it out, she had her husband try it, and they're so glad they did!
As I read the instructions on how to use the Micro-Pedi, I asked my husband if I can try it on him, since his feet are a little rougher than mine.  I told him that I had to wash and dry his feet first. He was willing and ready to! As I started using the Micro-Pedi on his feet it was very simple and easy to maneuver around.  When I finished with both of his feet, I definitely felt the smoothness of his skin. He even said, "Very smooth!".  Once we were done, I read on how to clean the Micro-Pedi.  It is very easy to take the roller out with one push of a button, then cleaning it with the brush. Finally placing it back in was also easy and simple.  Overall the Micro-Pedi by Emjoi is a very simple little machine to use for both men and women.

– Rholnna Jiao
If you would like to purchase the Micro-Pedi and the Extreme Coarse Micro-Mineral Rollers, click on the links below:
The Micro-Pedi by Emjoi – https://emjoi.com/Store/Products/AP-3RP ($39.95)
The Extreme Coarse Micro-Mineral Rollers – https://emjoi.com/Store/Products/AP-3RPX/ ($19.95 for a two-pack)
FTC Disclosure:  I received product from Lipton Publicity and was asked to review the product in return.  Although I did receive product, the opinions in this post are strictly my own.