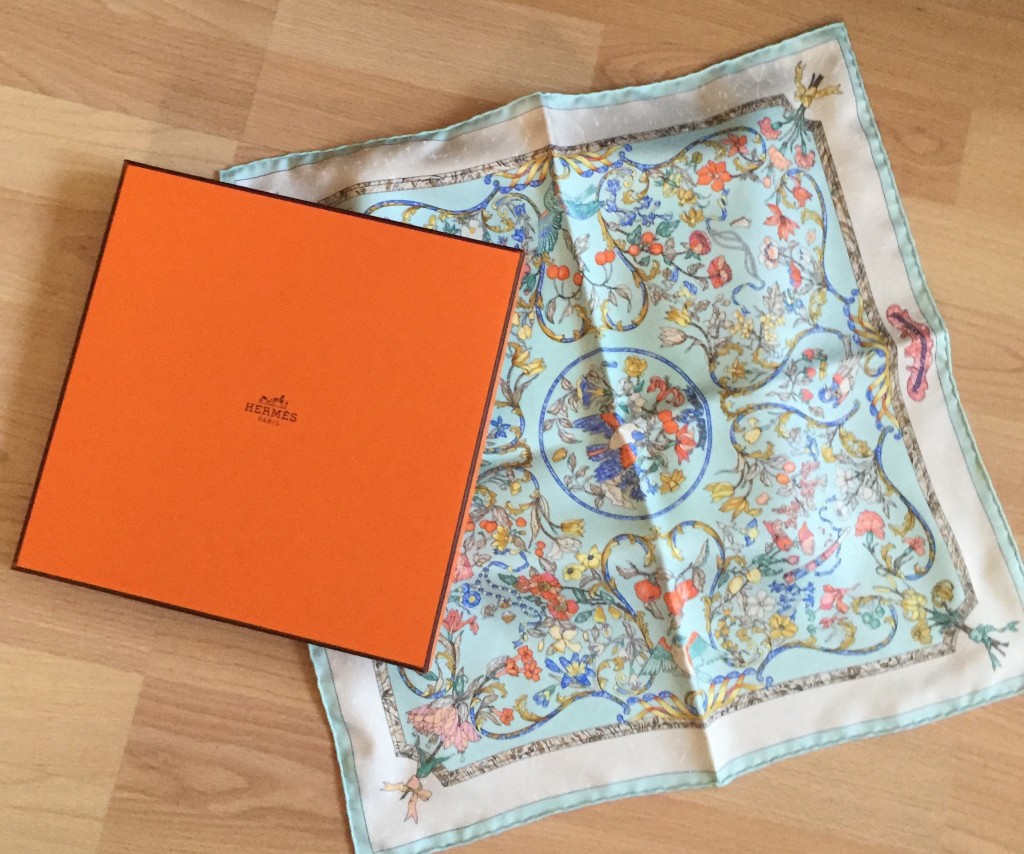 I have never been afraid to own something second-hand, especially if it's been well maintained.  Not only do I shop at secondhand and vintage clothing stores, but furniture stores as well.  I have a desk that I adore that I purchased at an antique shop when I was doing up my bedroom in "shabby chic".
When it comes to clothing, shoes, purses and accessories, I used to solely purchase pre-owned from eBay.  Lately, I have found myself really enjoying shopping from consignment or pre-owned luxury shops, both mortar & brick as well as online.  Before, I was simply looking for vintage items for the aesthetic feel, but now I'm looking specifically for gently used and well-kept high-end products.  One of my first pre-owned luxury items was Manolo Blahnik shoes from eBay.  For Christmas, my husband bought me the entire "Sex and the City" series.  During my maternity leave with our son Dominic, I binge-watched the entire thing and immediately fell in love with Carrie Bradshaw's style, because I was hitting that same age range as they were at the start of the series ("nearly 40").
What I loved about Carrie Bradshaw's style was the way Patricia Field used luxury items in everyday dressing. She had Carrie in cargo pants and casual tee with Manolo's and a Fendi baguette while grabbing coffee.  My style goal was to be that effortless.  It only really looked that way if you had the actual luxury items in the outfit.  In the years of trying to accomplish this, but with a bit of 80's edge, I realized that I needed to step out of my mall habit and start to look at pieces to invest in.  But with the job I had at that moment in time, it wasn't so easy to pull off.  My husband helped by buying me my first real Louis Vuitton purse for my 40th birthday (the Palermo PM below), but I was still feeling like a poser, getting it only half right in many instances.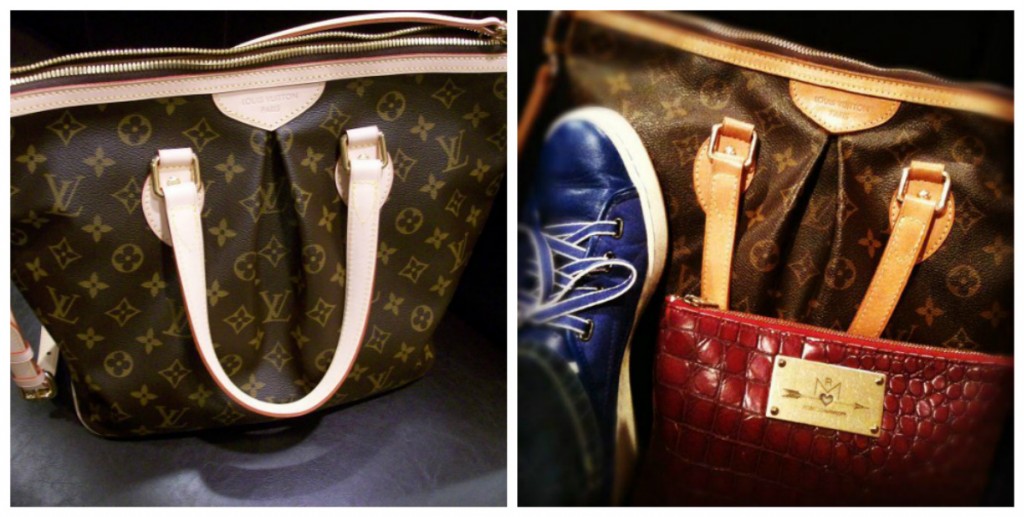 My first true luxury item, when it was new back in 2010 (the leather has become more patinaed since then).  Thank you to my loving hubby for giving it to me for my 40th birthday!
With patience and improved income, I finally feel like I can do the "high/low" mix of luxury, vintage and everyday properly, according to my style and taste.  I'm researching pieces to invest in that will still look great over time, and will hold their value.  One of my first investment pieces was an Hermès scarf from Portero, which was in pristine condition (top picture).  It was a smaller scarf, so now I'm on the lookout for a larger piece that I can use as a shawl.
After getting invited to several events for Designer-Vault, I knew I needed to own Chanel.  My first Chanel purchase from Designer-Vault was a lovely necklace.  I knew I had to get something that would be classic, but still keep within my rocker-chic edge, so I chose a gun-metal color that still had the interlocking C's.  I then made a few more purchases, including the cassette tape necklace (I wore on this blog post), all pictured below.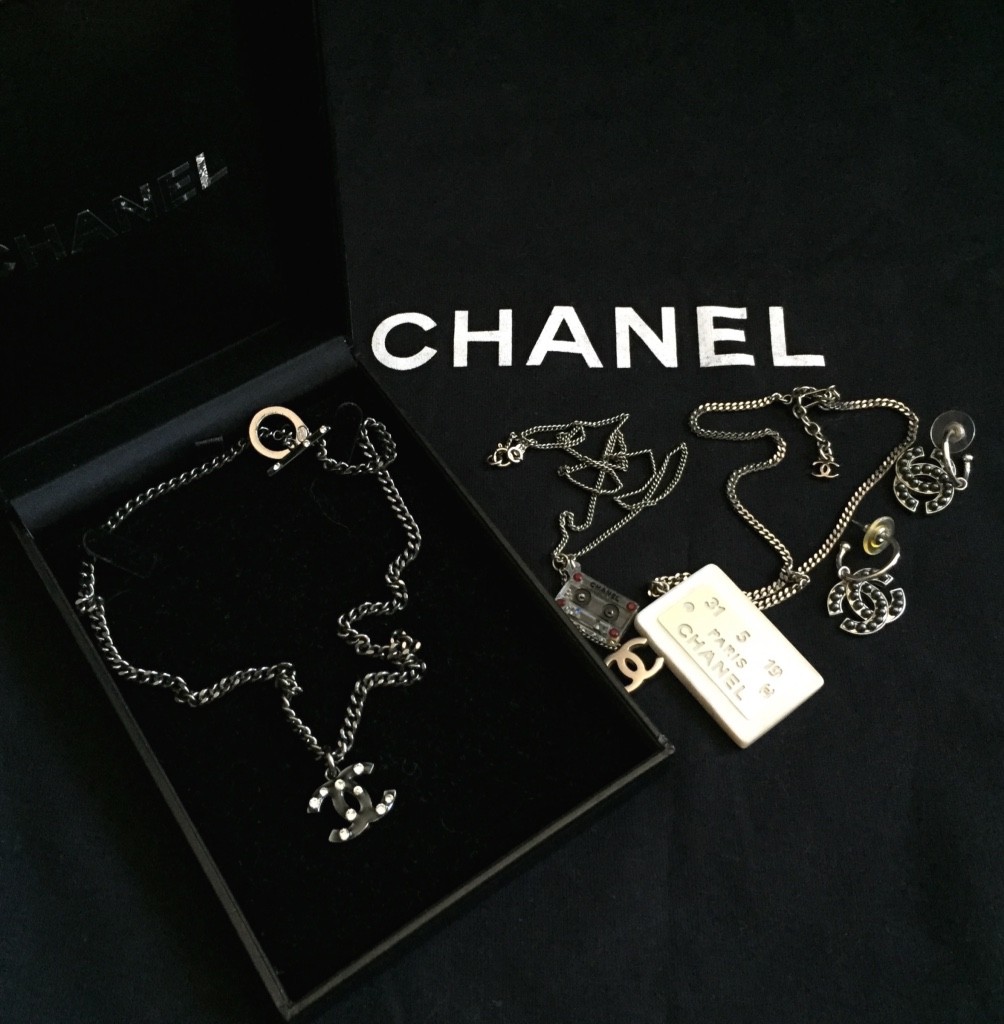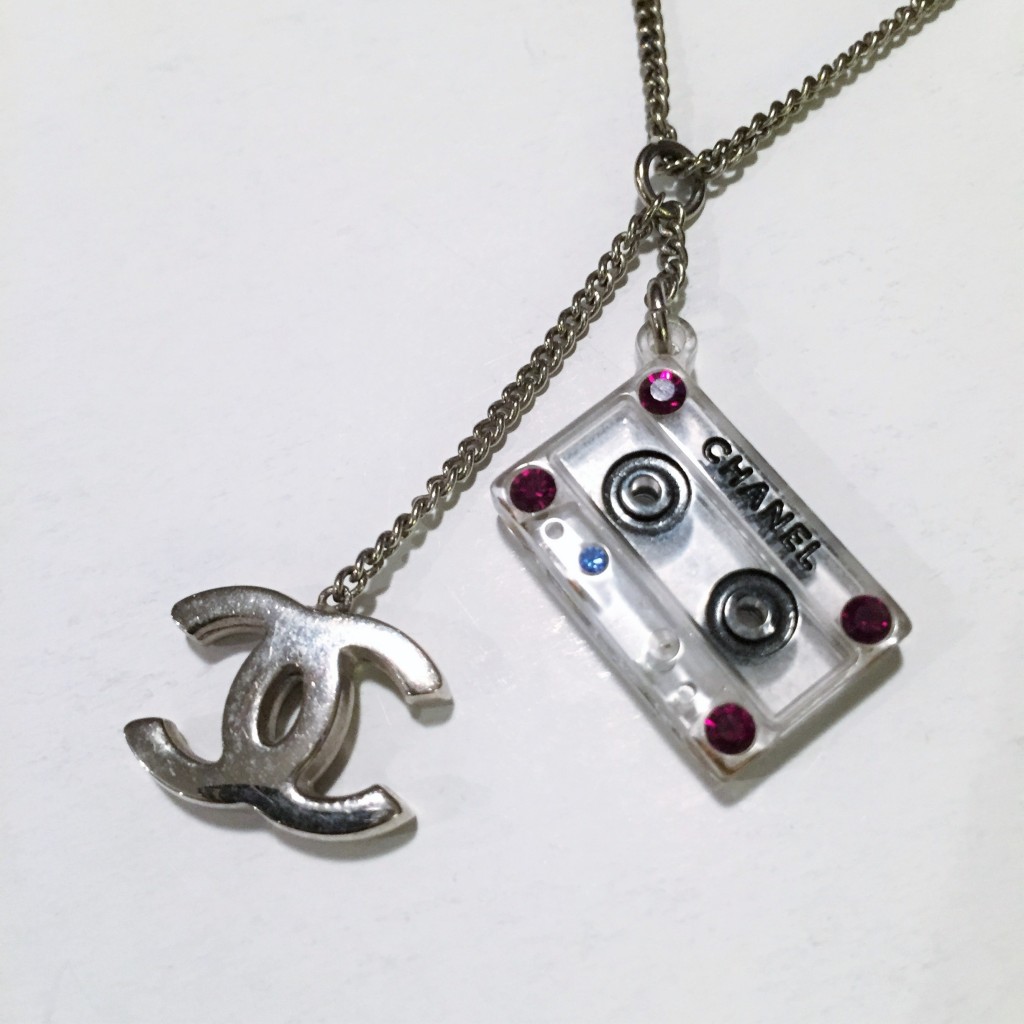 I purchased my first official Chanel purse from Portero (pictured below).  I know it's not a coveted classic flap with the chain link straps, but it still looks amazing and has the quilting and interlocking C's I was looking for.  I'm currently using as my main purse due to its practical size and shape.  It is in amazing condition, and I couldn't be happier with my first Chanel purse.  While in Last Vegas last month, I tried my best Eva Chen with it (with my new Zara platform espadrilles)!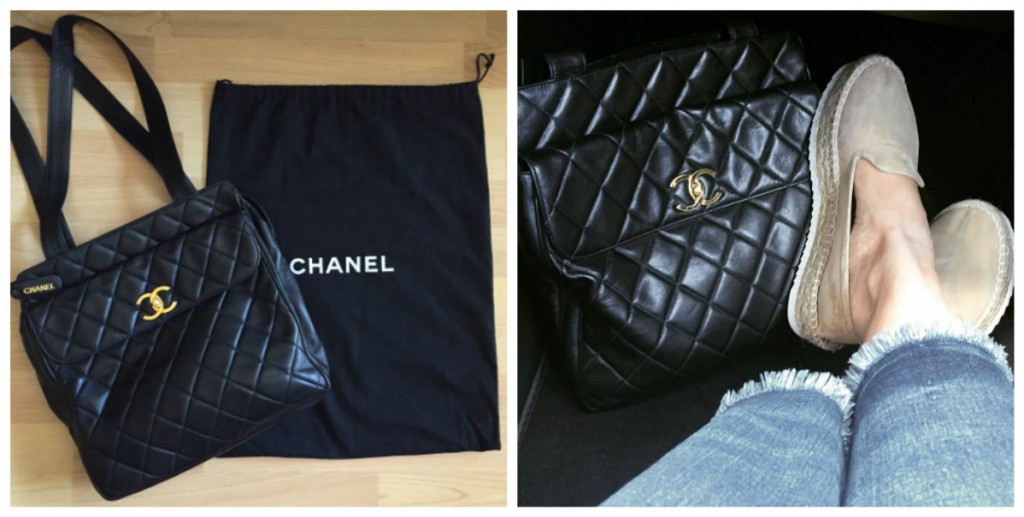 My most recent purchases have been in the luxury shoe line from The Real Real.  I was amazed at the condition of both of these shoes.  I wore the Chanel maryjane style flats in a recent outfit post, and I'll be wearing those adorable Christian Louboutins in an upcoming one!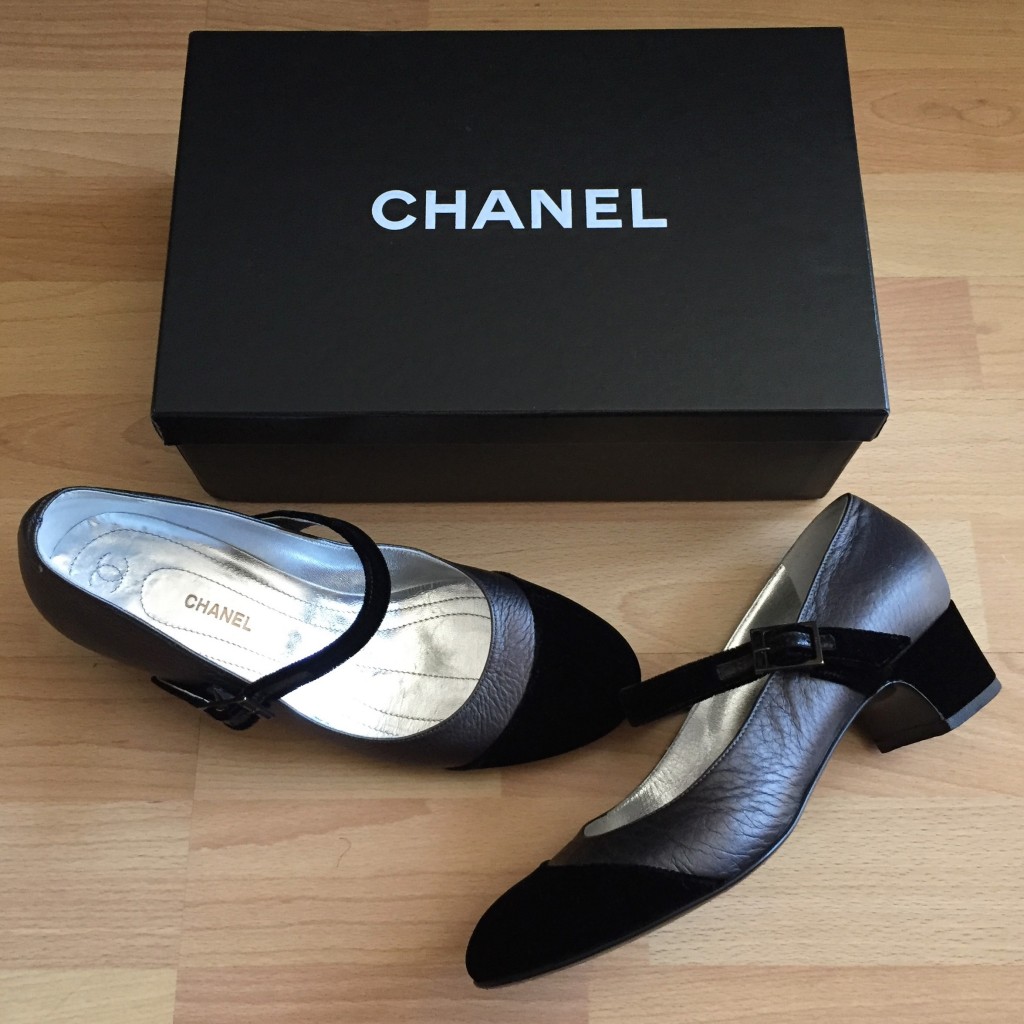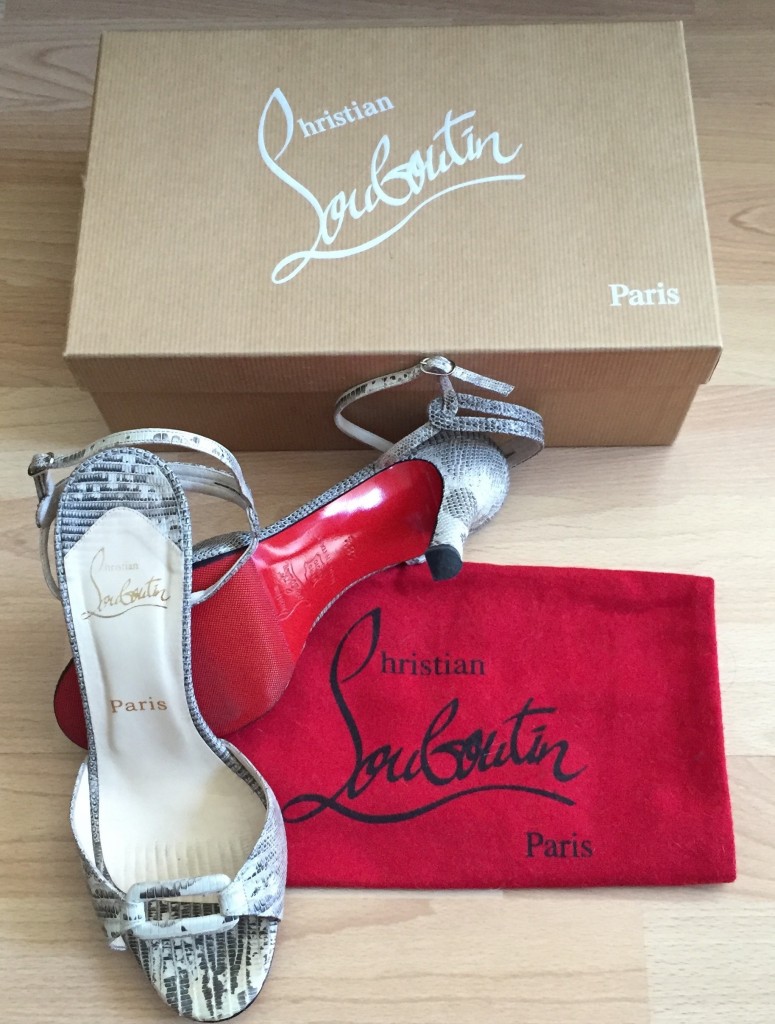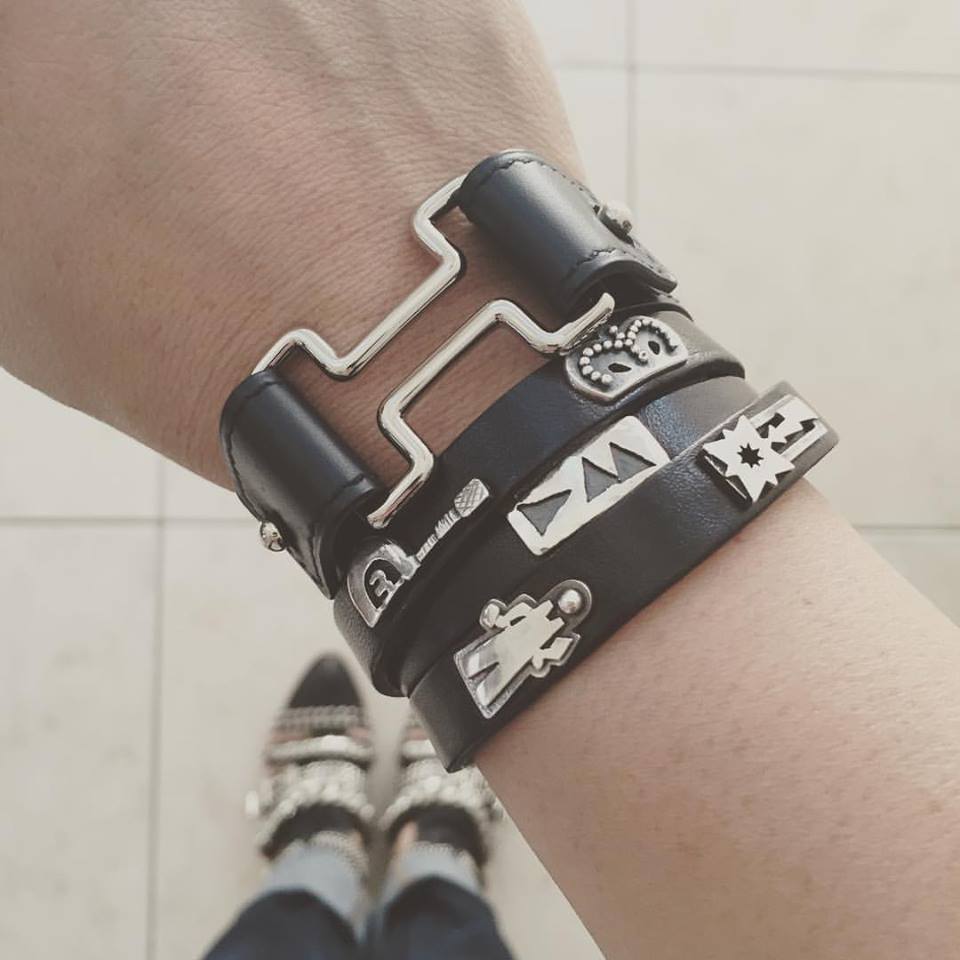 Finally, I found this fantastic Hermès leather cuff bracelet, also on The Real Real.  It fits right in with my style because it's silver and it matched up so well with my Depeche Mode leather wrap bracelet and Jeffery Campbell shoes that I posted recently on Instagram.
My Tips on Finding The Right Luxury Item
I thought I would close out this post with just a few tips on what I do to ensure I find the right pre-owned luxury item for my budget.  Hope this helps you and happy shopping!
Know your budget:  I have realized in my shopping sprees that I just can't afford an Hermès Kelly or Birkin purse, so I stick to anything that is in decent condition, usually under $1000.  Also, many of these luxury consignment sites have Affirm, which means you can pay for your favorite item over time.
Do the research:  I can't emphasize this enough!  Purchasing from luxury consignment sites like Portero, Designer-Vault and The Real Real are your best bets for finding authentic high-end items as they have professionals on staff who can attest to their product's authenticity.  But if you do purchase from eBay or any other auction style site, make sure you know how to differentiate a real from a fake.  I've made that mistake with mid-price items before, so I'm very particular to know what I'm looking for in a higher end item.  This means knowing which items have serial numbers, holographic tags and even checking stitching, patterns, and styles.  I only purchase from sellers with at least 98% rating and who provide extensive pictures.  If I can find "New With Tags", even better!
Be patient:  It takes time to find that luxury item that is not only amazing, but fits into your style and your budget.  I would hesitate buying something just to own it.  That pink fluffy Chanel purse may not be worth it if you're never going to carry it.  Take your time, search different sites and even go to a brick and mortar store.  There are lots of them out there, and it may be better for those of you who would rather have the item in hand rather than pictures online.