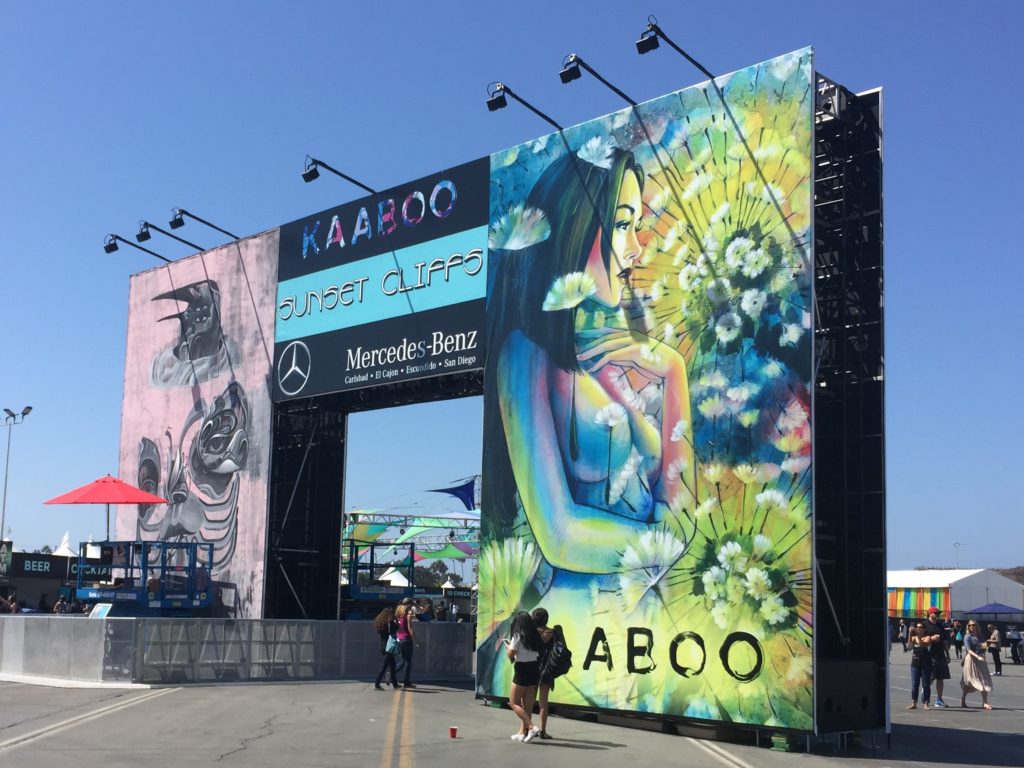 As I mentioned in a previous post (here), Angi and I won single day passes to KAABOO.  Sadly, Angi couldn't make it due to a work/travel assignment.  Although she tried her hardest to make it happen, alas, it just wasn't cost effective for her to create time for a break from her out-of-town commitment.  Luckily, my best friend Janice was free and jumped at the chance to see one of her favorite artists live: Lenny Kravitz.  I was anxious to see Gin Blossoms, Collective Soul, Third Eye Blind and Aerosmith, which is already quite the line-up!  For the most part, it is difficult knowing you may not see all of the acts you want to because of the way the shows are scheduled, but because it's known as "The KAABOO MIX-PERIENCE", it should be understood that you just have to get to what you can, when you can and you just have to get creative to ensure the best use of your time.
I want to also express wholeheartedly that I had a phenomenal time.  This was my second festival ever (my first was The Rewind Festival, post here), and it was amazing!  I've read some negative reviews this year because of what happened after The Chainsmokers set was completed.  Apparently, due to noise ordinances, the "Encore" portion was scheduled to take place indoors.  Because of the limited accommodations, many of the people who wanted to see Ludacris followed by Steve Aoki couldn't get in, and a near riot happened.  I also read that a lot of people couldn't get in to see Sarah Silverman as a part of their "Humor Me" comedy club.  I remember the line was pretty insane as we were leaving the Aerosmith show.  Because we chose to make the most of this experience by purchasing a parking pass and arriving incredibly early (12:30 pm), we enjoyed a leisurely tour of KAABOO prior to it becoming crazed and crowded.  We also decided that Aerosmith would be the last act we would see before heading home, where we took the back-way and completely avoided any traffic.  This is why we were so surprised to hear about how insane the night had become just after we left.
Overall, the food was wonderful, the mix of artists was fantastic because I don't think I would have ever been able to see any of the bands I did in such a short amount of time, and for us, everything went without a hitch.  There was plenty of areas to chill out between the shows, and I liked the "Hydration Stations" throughout to provide much-needed water at an outdoor event, along with several areas to charge any portable communication device (phones and tablets).  I had gone to the San Diego County Fair earlier this year, and the Del Mar Racetrack was completely transformed into a hip alternate universe, which I'm sure was the whole point!  I would love to attend KAABOO again next year, and maybe upgrade myself to the VIP experience.
To make the most of documenting my experience, I broke up this post into three parts:  The Food, The Music, and Everything Else.  I hope you enjoy my recap!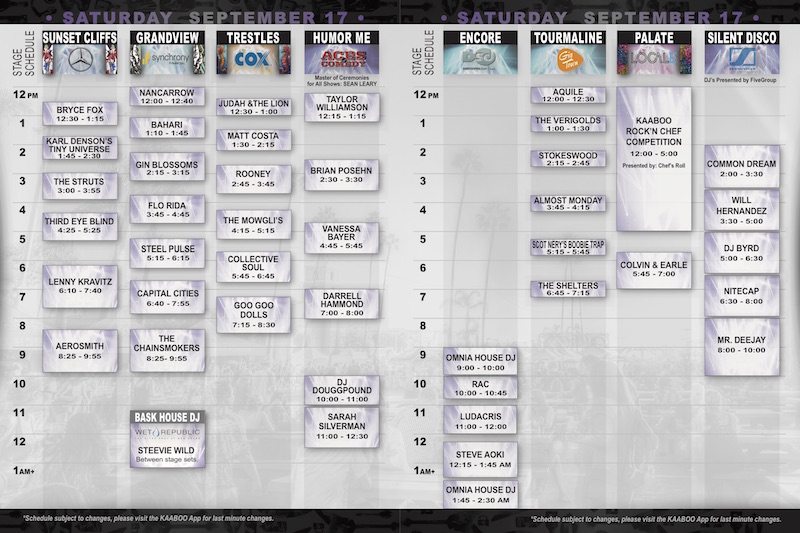 ---
THE FOOD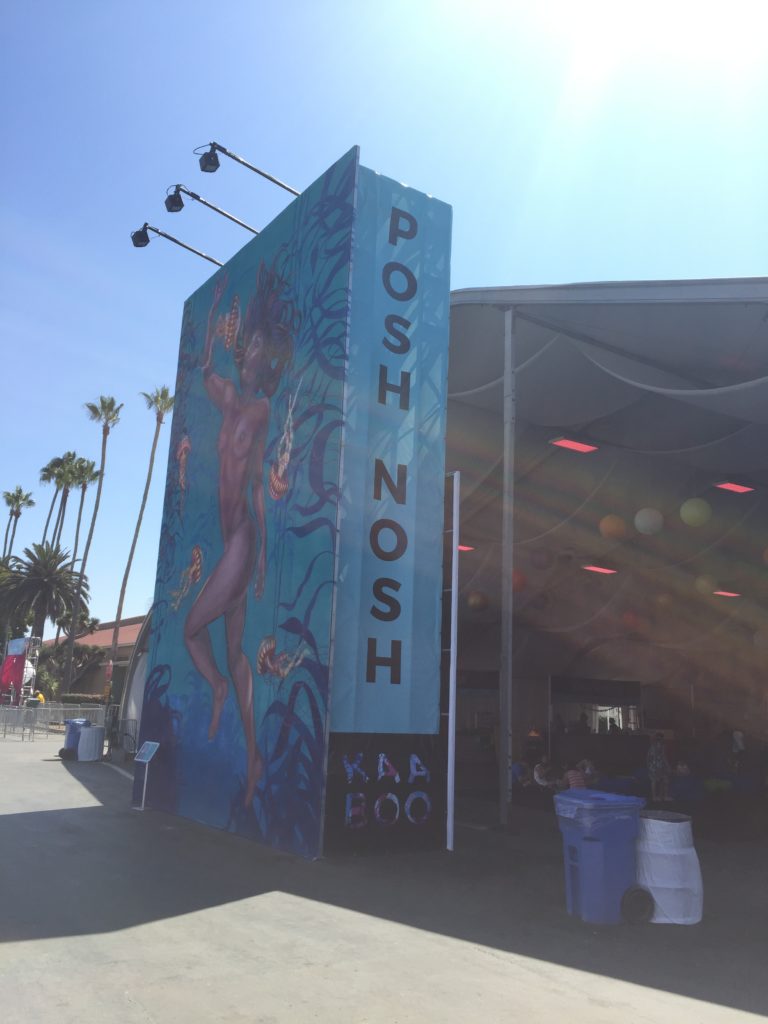 I should have taken pictures of the inside of "Posh Nosh" because not only were there seated areas with tables, but comfy cushions to really get that lounge experience.  Arriving early in the day allowed us time to walk around and get to know all of the food choices.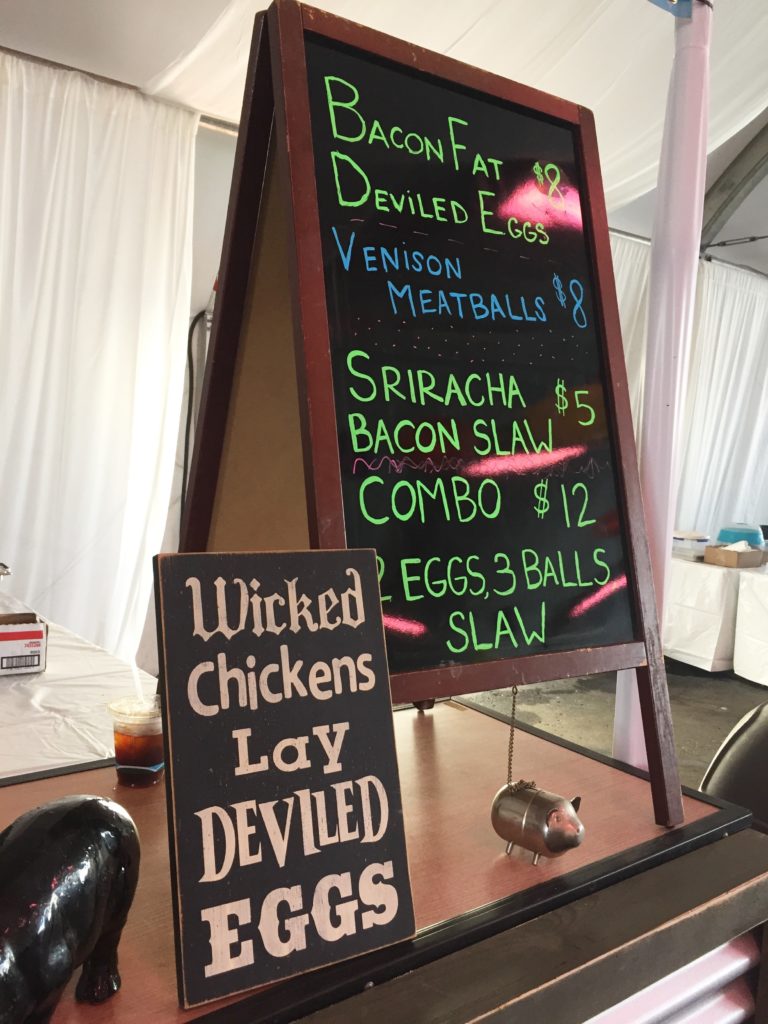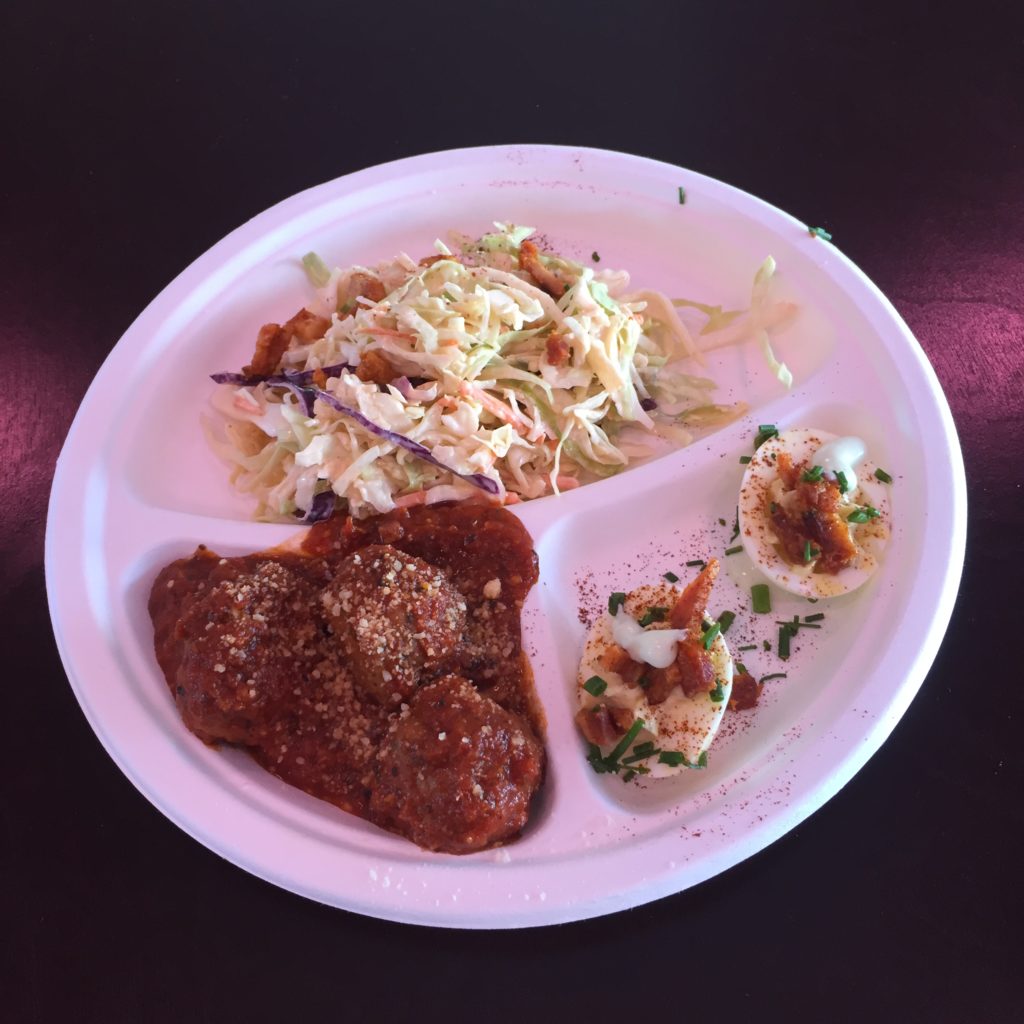 Of the food inside "Posh Nosh", we opted for one of my favorite restaurants, Sausage & Meat.  I'm not the biggest fan of slaw, but add bacon to it and I'm sold!  This was the "2 Eggs, 3 Balls, Slaw" combo meal and it was definitely the heartiness we needed before tackling the day.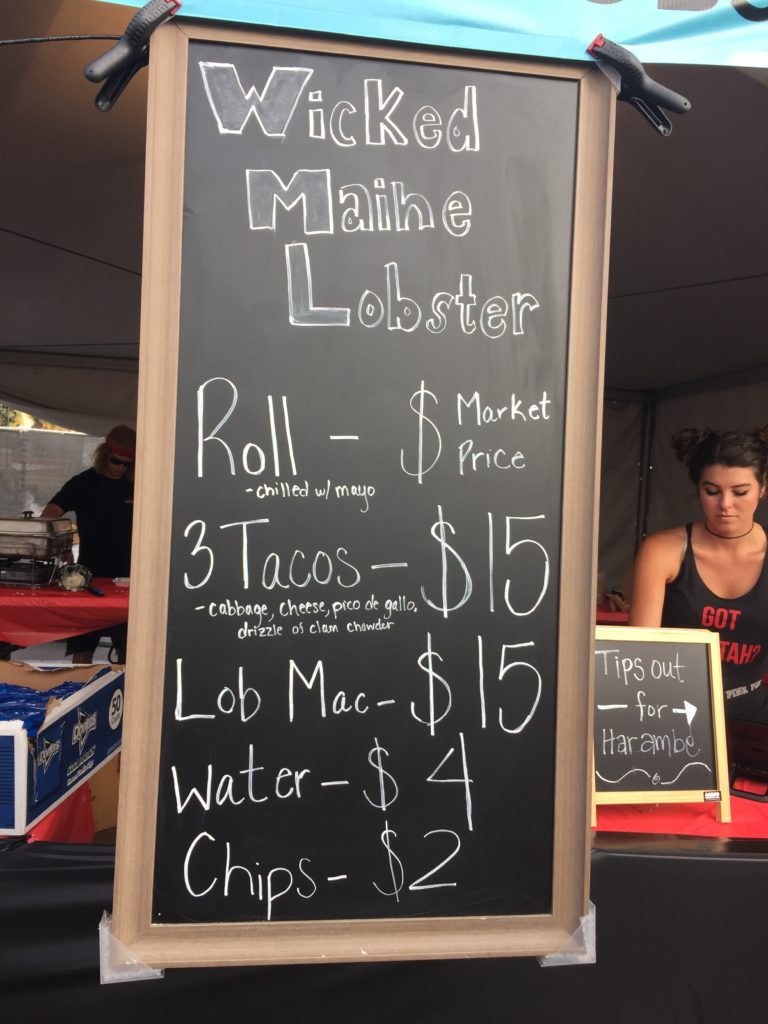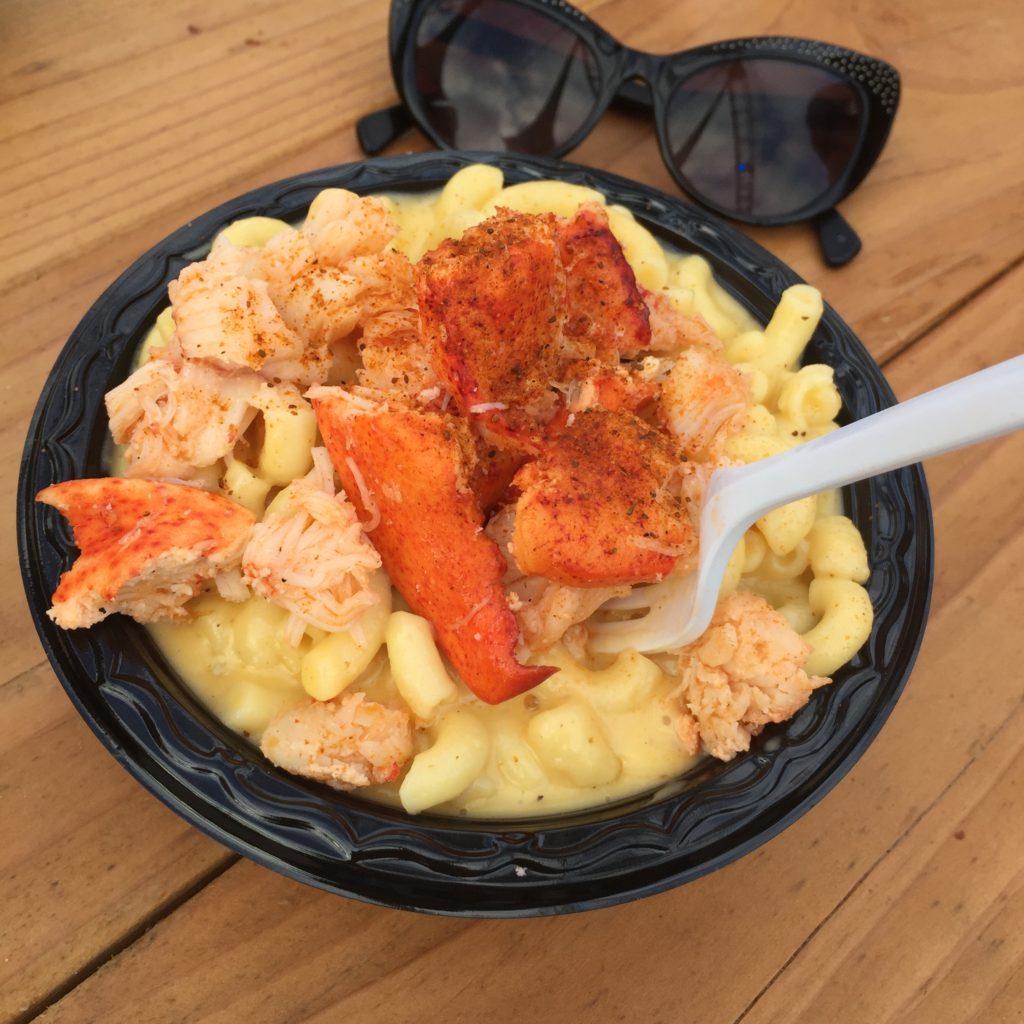 Outside of "Posh Nosh", there are many places to grab a bite to eat.  After seeing the Gin Blossoms and during Third Eye Blind, we decided on the Lob Mac at Wicked Maine Lobster.  I swear, that's an entire lobster tail in there!  It was better than I can describe, so shall I say it was wicked good?!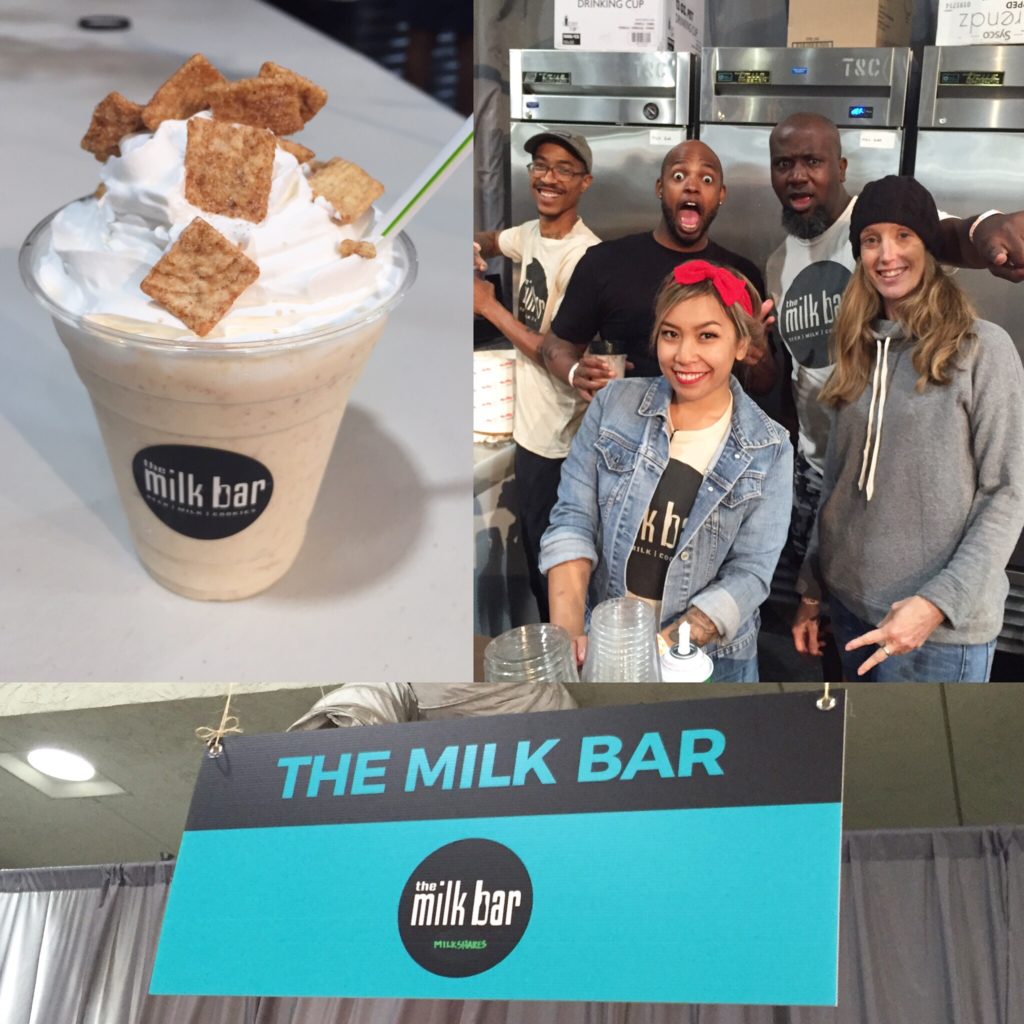 I ended my KAABOO food experience with a Cinnamon Toast Crunch milkshake from The Milk Bar.  Not only was it absolutely delicious, the crew was so much fun!
---
THE MUSIC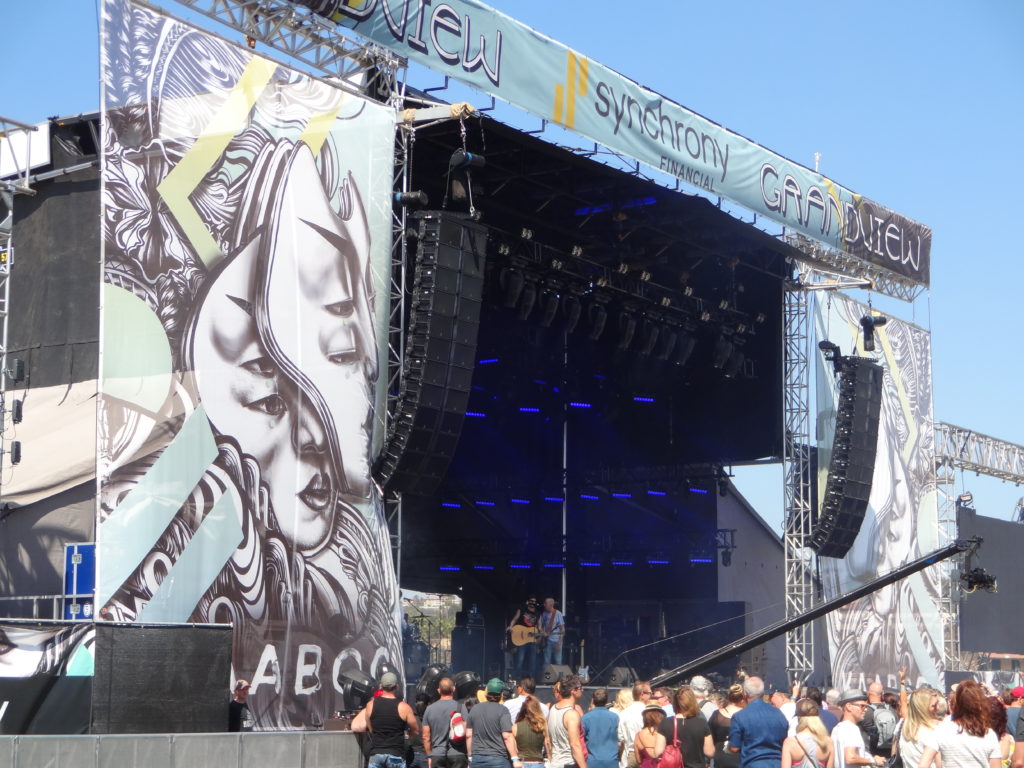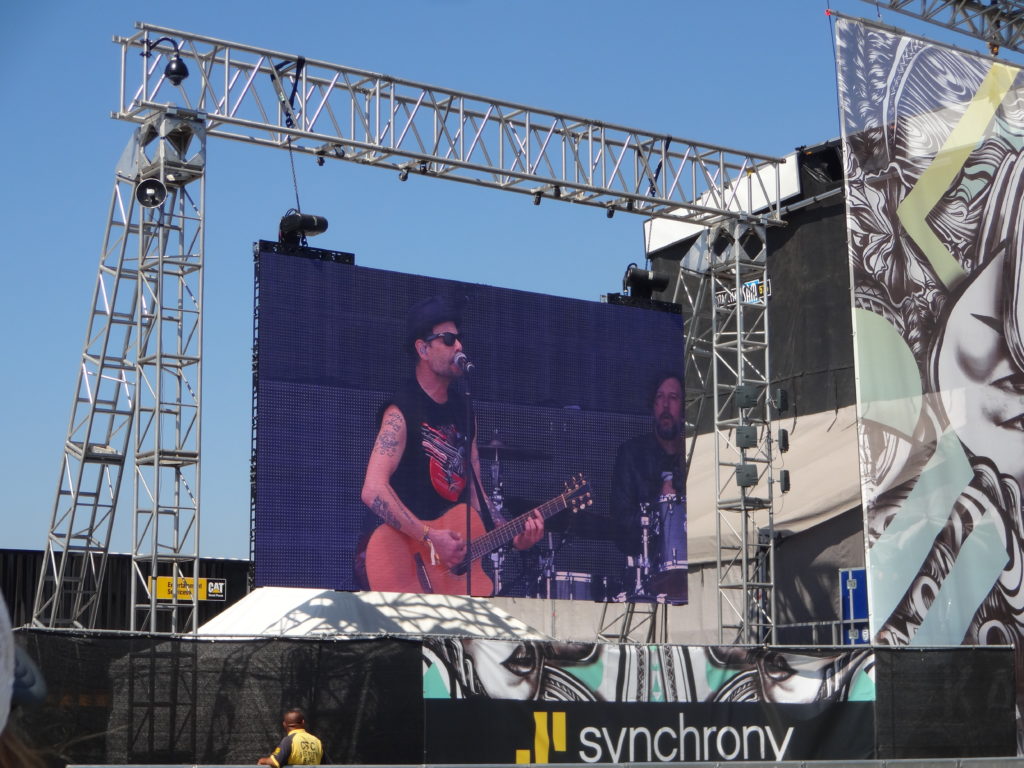 I have always wanted to see Gin Blossoms because one of my all time favorite songs is "Hey Jealousy".  By sheer coincidence of scheduling, they were moved to Saturday and I feel that the universe was aligned for this moment, and it was everything I hoped it would be.  "Til I Hear It From You" and "Found Out About You" were also great live, and they are a fun band to watch.  Check off another one from my concert bucket list!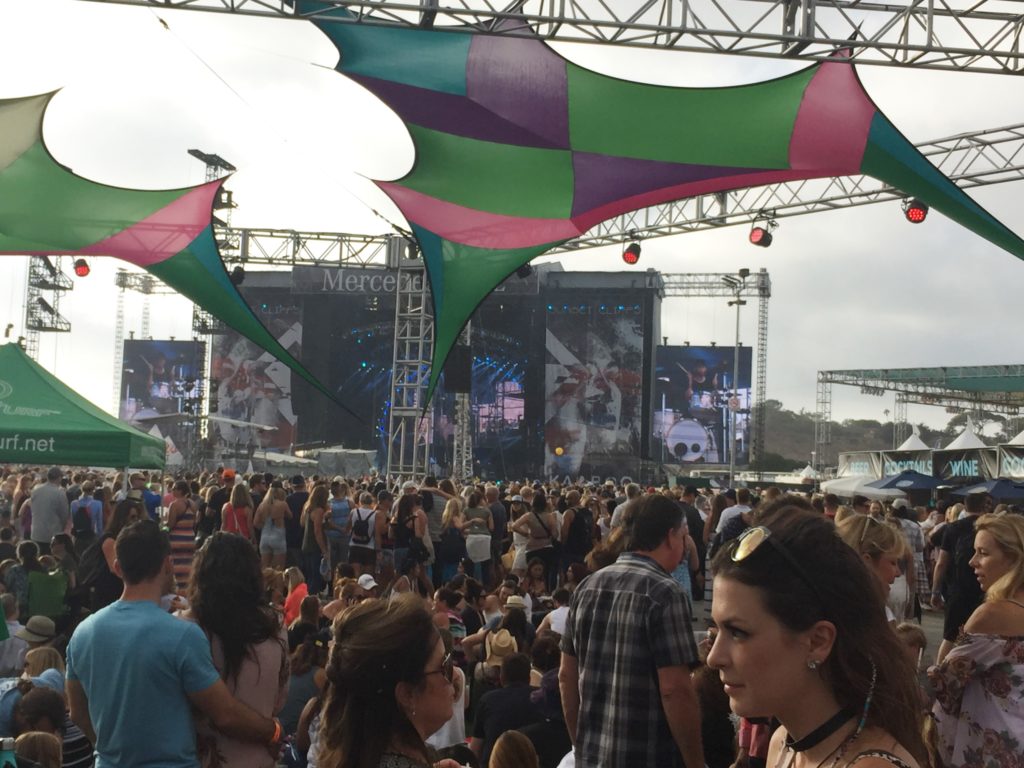 I think the picture above should give an indication of just how crowded it got right around 4pm.  As we ate our Lob Mac, we enjoyed the many hits of Third Eye Blind.  I think this picture was taken during "Never Let You Go", and I was so happy that I also got to hear "Jumper" and "Semi-Charmed Life" live.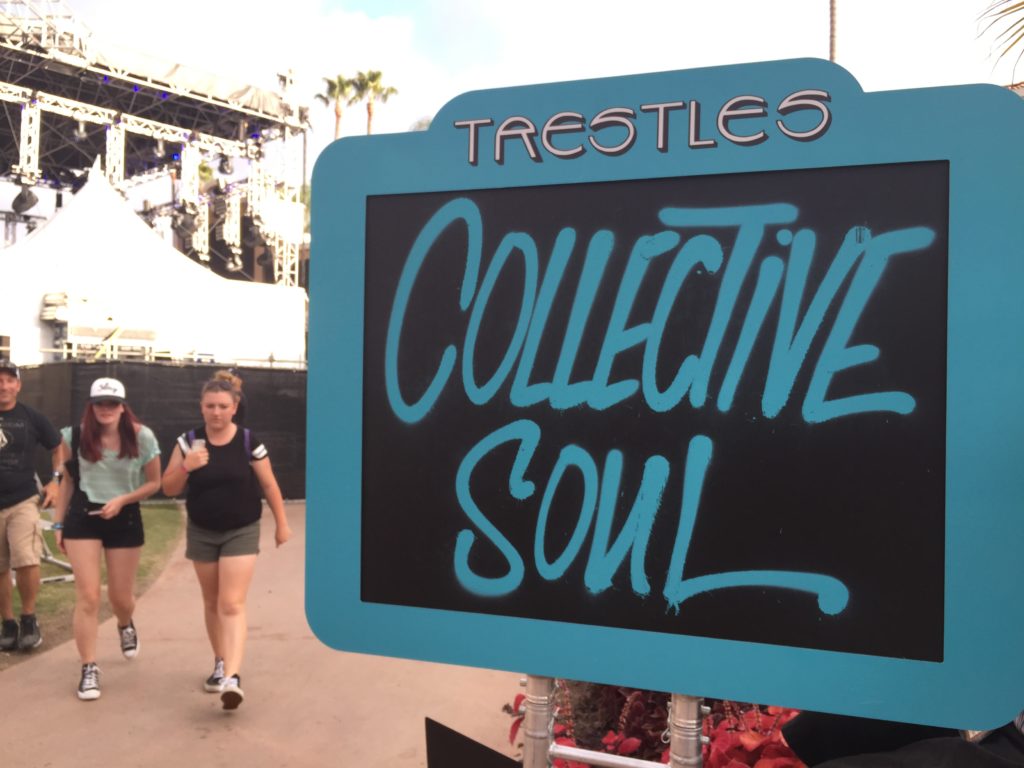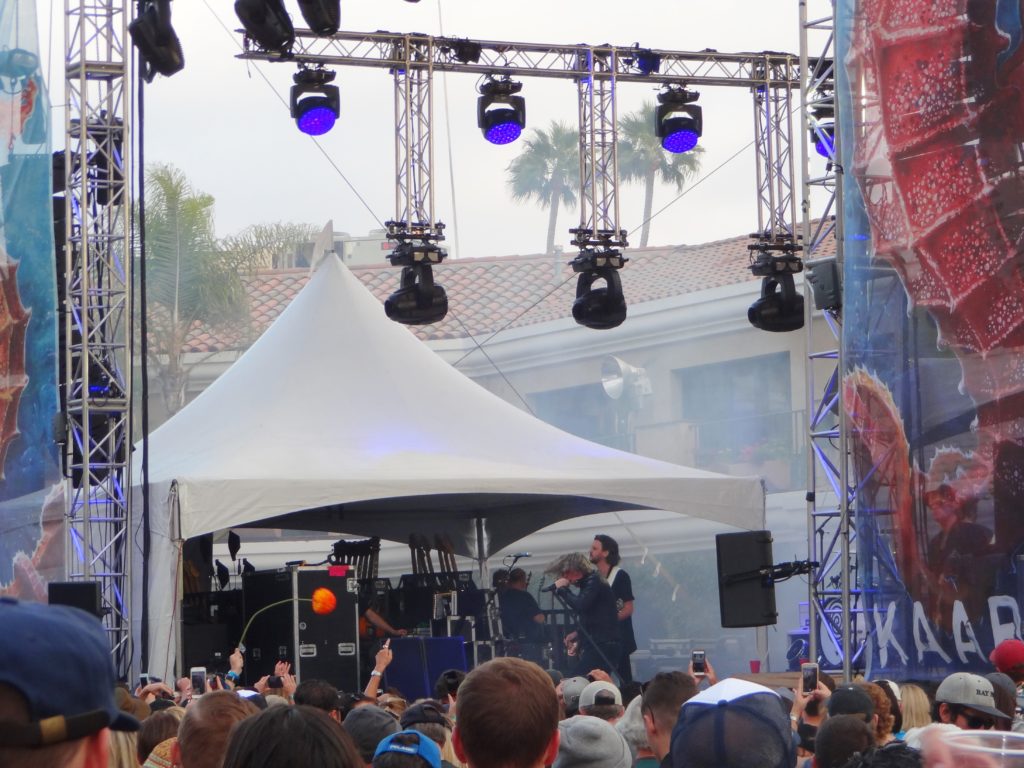 Truth be told, I'm a novice when it comes to Collective Soul.  That did not stop me from wanting to see them, so this is where Janice and I split-up.  She wanted to catch all of Lenny Kravitz's show, and I got to witness live the only two Collective Soul songs I know: "Shine" and "Better Now".  I'm infinitely glad I did, and my hubby was a bit jealous that I caught their show.  "Shine" is even better live!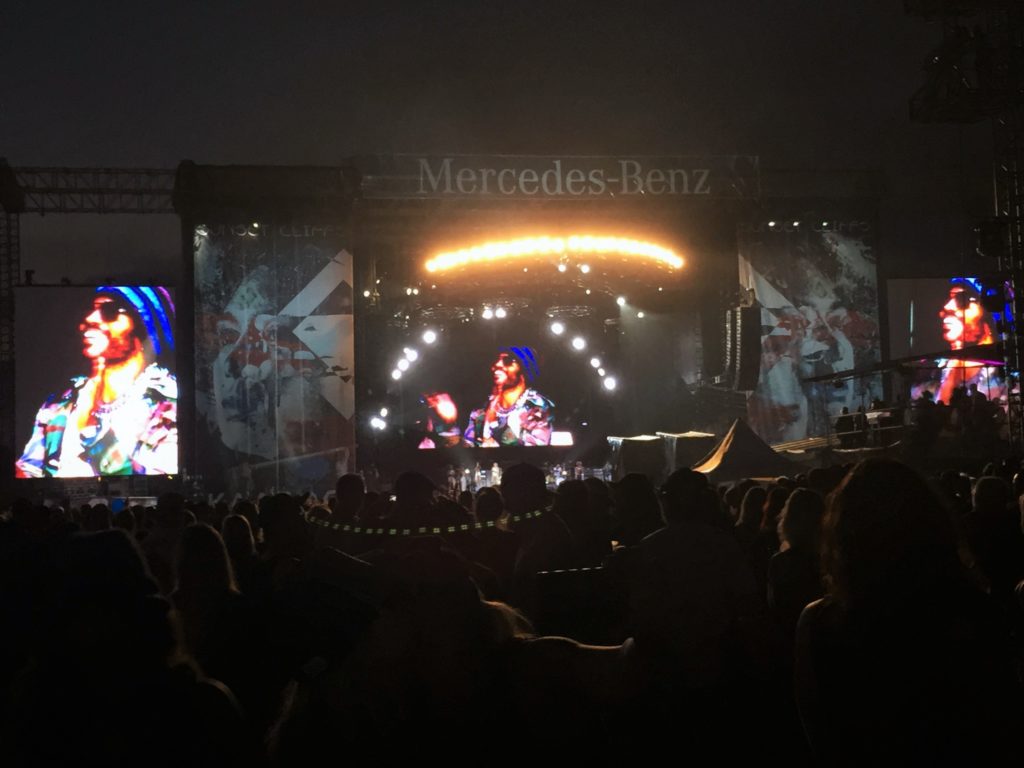 Even after arriving a little late, I still got to catch songs like "Are You Gonna Go My Way", "Fly Away" and "American Woman".  Great set!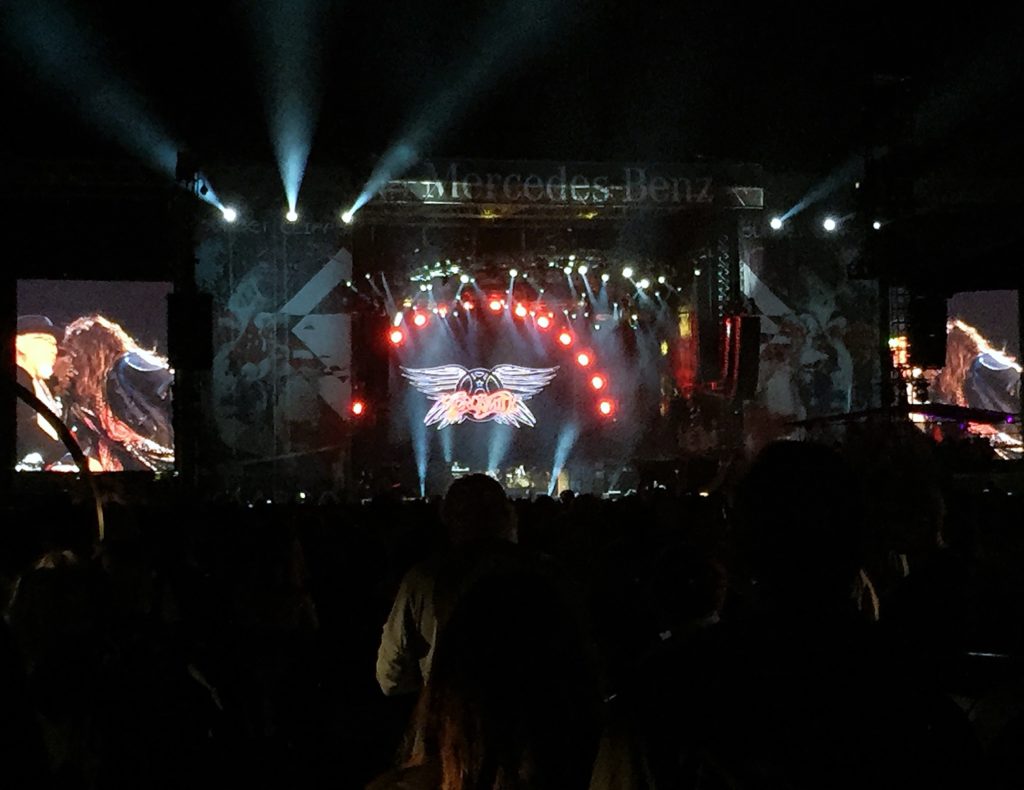 It's not often you get to witness greatness, and one should acknowledge when that happens.  Aerosmith are rock legends, and it had been over a year since they played live.  There are moments where you need to make a choice, and although The Chainsmokers are wonderful in their own right, there was just no contest when it came closing out KAABOO for us.  "Walk This Way" was worth the price of admission alone, and everything was icing on the cake.  I am truly not worthy.
---
EVERYTHING ELSE!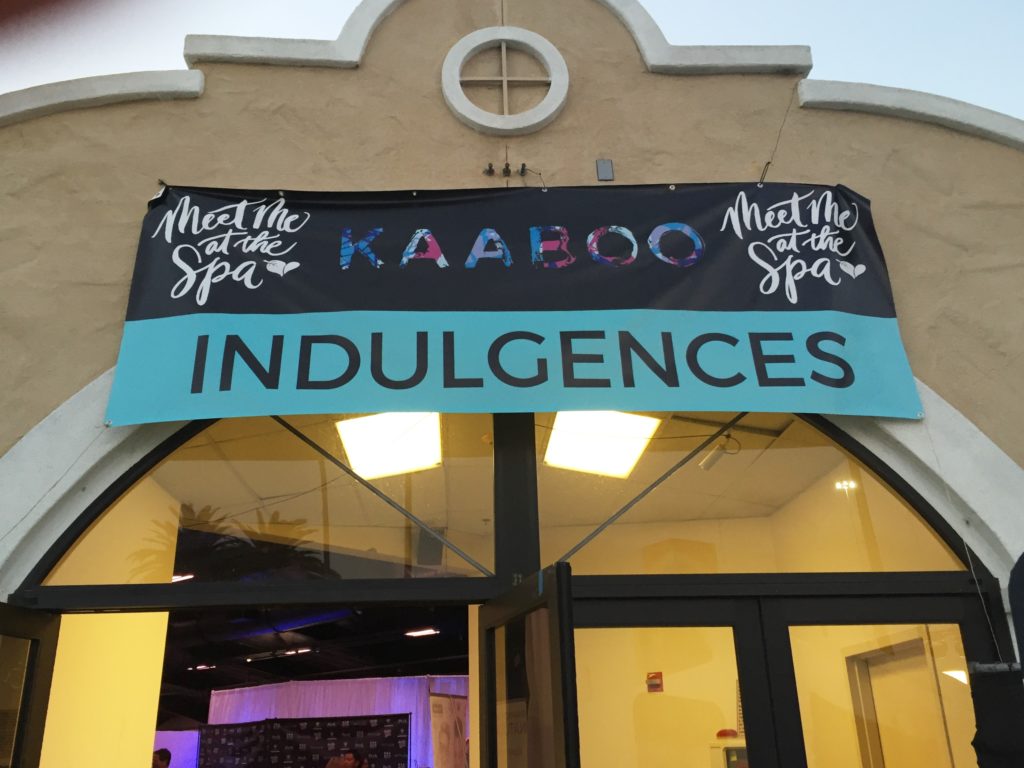 Janice and I roamed around KAABOO prior to it getting uber-crowded, and took advantage of everything they had to offer in terms of sampling food, photo ops and areas to chill.  One of our favorites was an area called "Indulgences".  Inside, they offered spa services, retail mini-boutiques, and places to relax and not only recharge your body, but your phone as well!  Between shows, we stayed there to cool off and hydrate.  During a gap after seeing Third Eye Blind and before seeing Collective Soul, I went back on my own before joining Janice at Lenny Kravitz.
There were several areas for fun photo opportunities.  No one ever accused us of being shy!
 Outside of the music, prominent everywhere was the art.  This was one of my favorites by artist Lauren YS called "Feed Your Head", which was her take on "Alice in Wonderland".  Simply breathtaking, especially due to its sheer size.
 Another favorite rest area outside of "Indulgences" was the Cox Live Lounge.  There was a non-alcohol refreshment bar, plenty of seats and a place to charge up our phones.  We made our mark on their Gigablast mural.
Our final stop was at the FM 949 booth.  I wanted to capture a picture of us with a KAABOO sign, and after signing the banner, we closed out our night.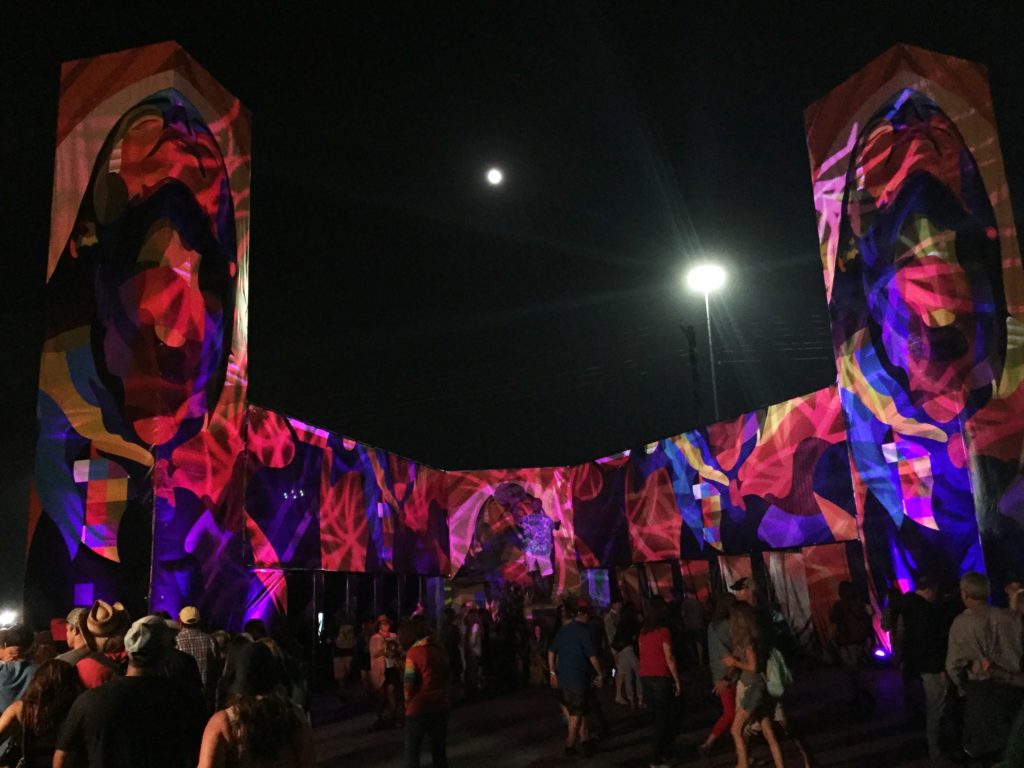 Many, many thanks to Discover SD and Delicious Buzz for the opportunity to win passes to attend KAABOO.  Until next year!