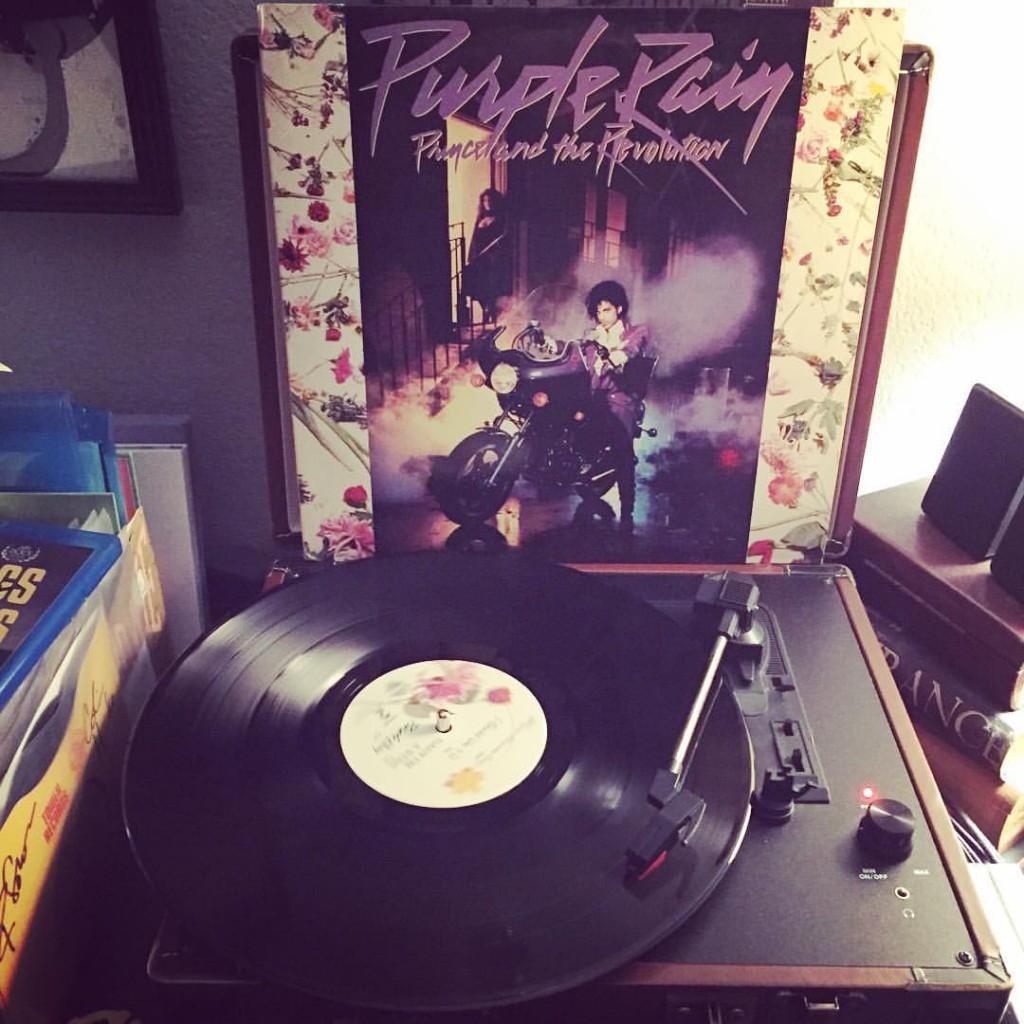 How can this be?  How can another musical icon's time end so soon?  I feel like I just got over David Bowie's untimely passing, and now Prince.  The sting of someone so influential and so unique is definitely something I'm feeling on a level I never thought I'd feel.  Is it because this is yet another missed opportunity to see a musical great live?  Is it because Prince was merely 57 years old and performed a show just last week?  It's all so overwhelming and confusing, and scary at the same time.  There is a growing list of icons leaving Planet Earth in 2016, and it's only April.
Prince was like Bowie: A controversial musical genius and fashion icon.  He did what he wanted (including changing his name to a symbol), and fans loved every minute of it.  Prince's music crossed genres in so many ways from R&B to pop to rock.  All in all, most will agree: his music was just plain good.  An early Prince memory was a bus ride home from Disneyland when I was in the 8th grade, singing songs from the radio.  One song we went back to over and over was "Little Red Corvette".  I wasn't truly aware of what it all meant, I just knew it was a great song.
Since I'm still trying to process the news, I'll just post about how Prince influenced my fledgling dreams of being a rock star when I was a teen:
I wrote a couple of songs when I was in junior high and high school.  I fancied myself to be like Depeche Mode, making the keyboard my instrument of choice. My first one was a Casio, which I chose as a Christmas present.  I would set up a mock recording studio in the privacy of my bedroom with a tape deck and a microphone.  I finished my first recorded song and presented it live in one of my English classes my senior year.  I recall being scared out of my wits because I was not only performing live in front of my friends, but I was putting my creative soul out there for judgement.  It went very well, and my friends were so supportive.
In my first few years of college, I wrote many songs, but recorded only one demo.  I wrote a song called "Destiny's Arms", which was a duet ballad.  It was inspired by "The Arms of Orion" by Prince from the 1989 Batman soundtrack, also a duet with Sheena Easton.  I love the idea love prevailing above all, no matter where, when, time or space.  I recorded "Destiny's Arms" with one of my former teachers in his mini-home studio over the period of about a month.  I even sent the demo tape and lyrics to be copyrighted at the Library of Congress.  I never sent my demo anywhere, but in hindsight, I wish I had sent it to Prince.  I don't know if he would have ever responded, since it was a basic little love song.  But I wish I had sent it just so he knew that a 19-year-old kid in San Diego found inspiration from one of his works of art.
Farewell dear Prince, rest in peace.
In the heart of a sleepless moon
I'll be with you forever
This is my destiny
'Till my life is through

The Arms of Orion by Prince
(Top image from my personal collection)