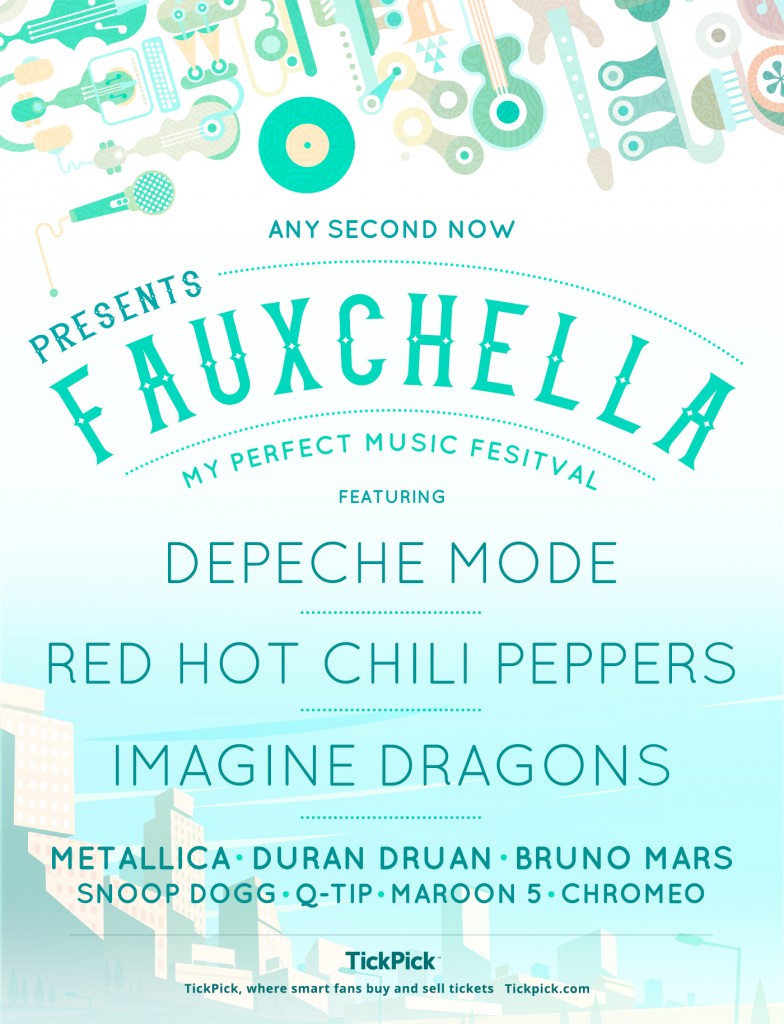 Coachella marks the beginning of "Festival Season", and I know I've seen the fashion inspiration pretty much everywhere!  I've thought about this for quite sometime: what would my dream festival be?  Who would be in my line-up?  I actually have made several lists in my head before, and they almost always turn out to be some kind of Rewind Festival, to which I've already gone to (my first post about it here, and my actual experience here).  But I know my tastes go beyond the 80s, and with some inspiration from TickPick, I thought about how much fun would it be to include not just my favorites, but those of my husband and son, plus make it fun for all of my friends and family to attend.  Honestly, my list ended up being 30 artists long, but I've narrowed it down to what I think became an eclectic mix of 10 artists, which is a combination of favorite acts, spanning several genres.  My top three are intentional, based on my all time favorite band, a band my husband is just chomping at the bit to see, and our son's favorite band.  The rest is in no particular order, but includes some wants.  If I could turn back time, my list would have included David Bowie and Prince, but alas, that is not to be.  But how simply awesome is the graphic created by TickPick (who, by the way, is a great resource if you're interested in finding Concert tickets, NFL tickets and more)?!  It almost makes me want to contact someone, anyone, to actually make my Fauxchella happen!
Who would you pick for your ultimate festival?  Let me know in the comments, and here's why I chose my top 10.  Cheers!
Depeche Mode:  That was a given (too many posts about them on this blog, but see my review of their Delta Machine Tour here).  If their line up could include Dave, Martin, Andy along with Alan and Vince, I think I would just have to drop the mic.
Red Hot Chili Peppers:  A band that my husband absolutely wants to see, sometime in this lifetime.
Imagine Dragons:  Our son's favorite band.  He knows their lyrics better than we do, and don't even question him about which song is on which album.  He schooled me once, and it was embarrasing…did I mention he's seven?  We took him to see them last year, and it solidified his fandom.
Metallica:  Another of my hubby's favorite. He's seen them live previously, but would not mind seeing them again.
Duran Duran:  They were my first favorite British band, until Depeche Mode stole that title from them.  But I still adore them and they produce great music to this day, and are fantastic live (post here).
Bruno Mars:  He is a spectacular entertainer and musician.  My husband and I saw him two years ago (review here), and it was so good.
Snoop Dogg:  Because I just want to see him. Do I need a reason?
Q-Tip:  I cannot believe I've never seen A Tribe Called Quest in concert (but I did a post about them here).  Now that Phife Dog has passed, I know I will never have that chance.  But Q-Tip has done some solo work, so I hope I get to see him someday.
Maroon 5:  I have been watching Maroon 5 for years because they opened for Guster and John Mayer before heading out on their own.  I then went to see a headlining tour with my best friend once a few years ago, and I think she would enjoy meeting them, especially Adam.  I have met them before (picture here), this was ages ago.
Chromeo:  I thought about a DJ to round out my line-up, and then I realized that Chormeo both DJ as well as perform their own songs!  My husband and I have seen them before (post here), and we would see them again in a heartbeat.