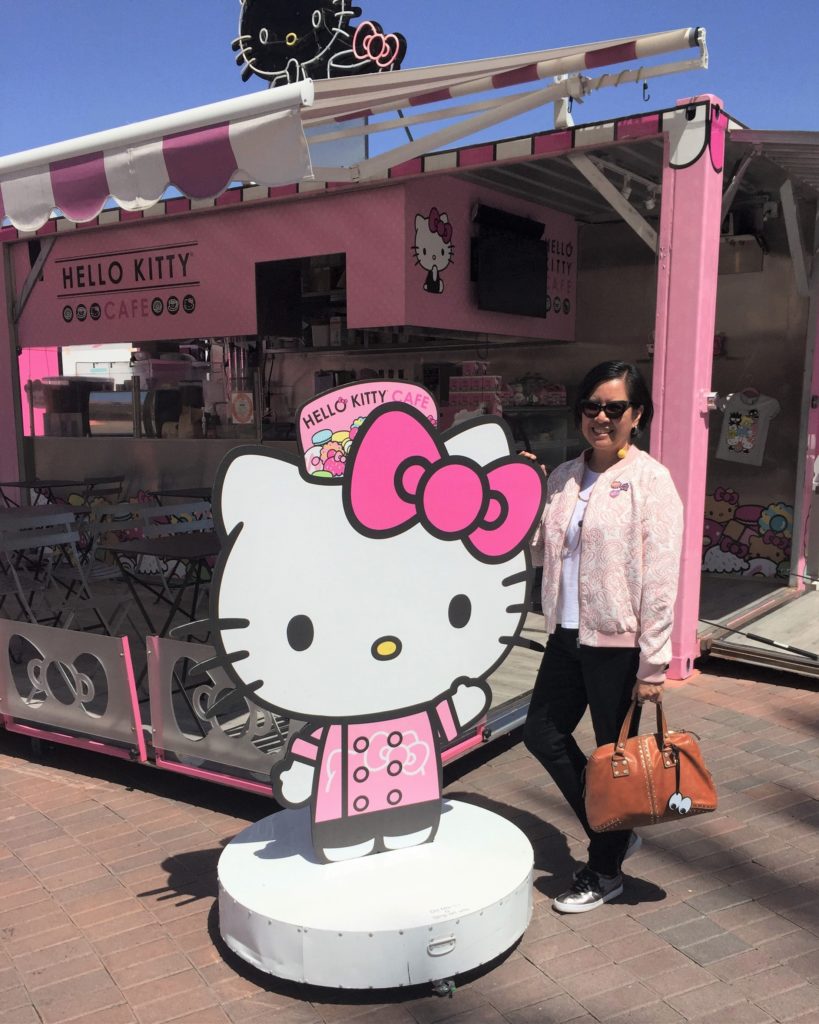 Before the month ends, I wanted to put up pictures of when my sister and I went out for my birthday earlier this month.  We both have Monday's off, and my birthday was on May 8th, which fell on a Monday this year.  Since my husband was working and our son was in school, my sister and I went on a mini-adventure in the Irvine area.  I'll split our trip up into two parts, which was what I wore, and what we ate!
---
Birthday Adventure 2017:  THE OUTFIT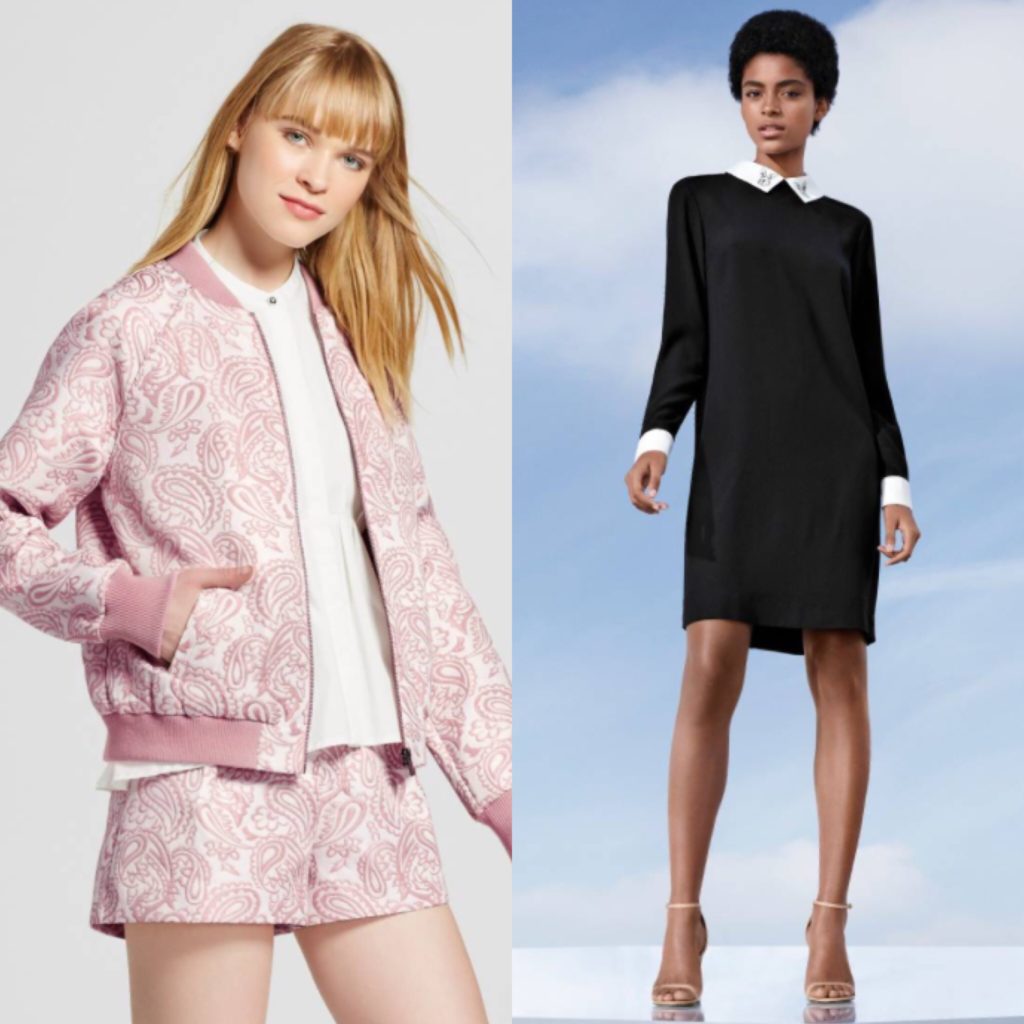 I bought two things from the Victoria Beckham for Target line:  The Blush Floral Jacquard Bomber Jacket and the Black Collared Dress, which I'll be wearing in another outfit post (pictured above).  It was fitting that we visited the Hello Kitty Cafe on our way home, because pink was the order of the day, and who wears it better than Hello Kitty!  I wore the jacket very casually with black jeans and a white t-shirt, but jazzed it up a bit with a pom-pom necklace, metallic sneakers, and of course…pink pins!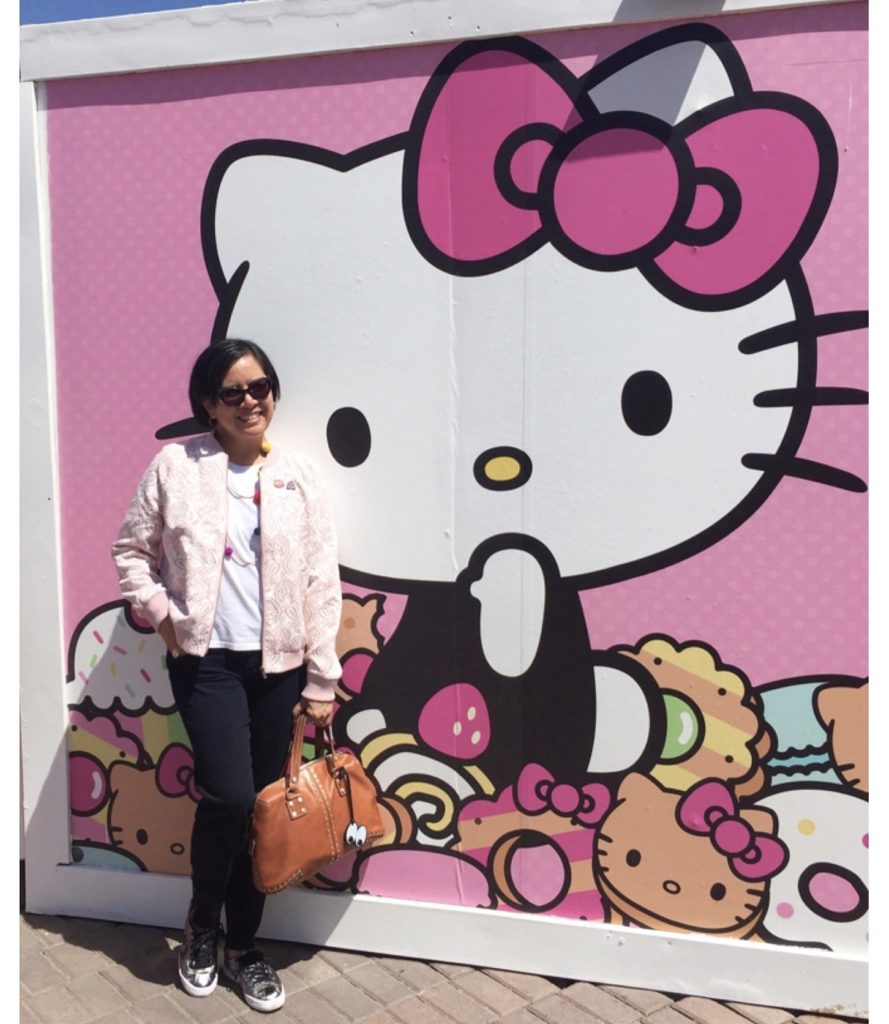 Outfit:  Blush Jacquard Bomber Jacket by Victoria Beckham for Target (no longer available online); The Cotton Box-Cut Pocket Tee by Everlane; Michael Kors purse (older, no longer available); Jeans and Leather Eyes Bag Tag by Madewell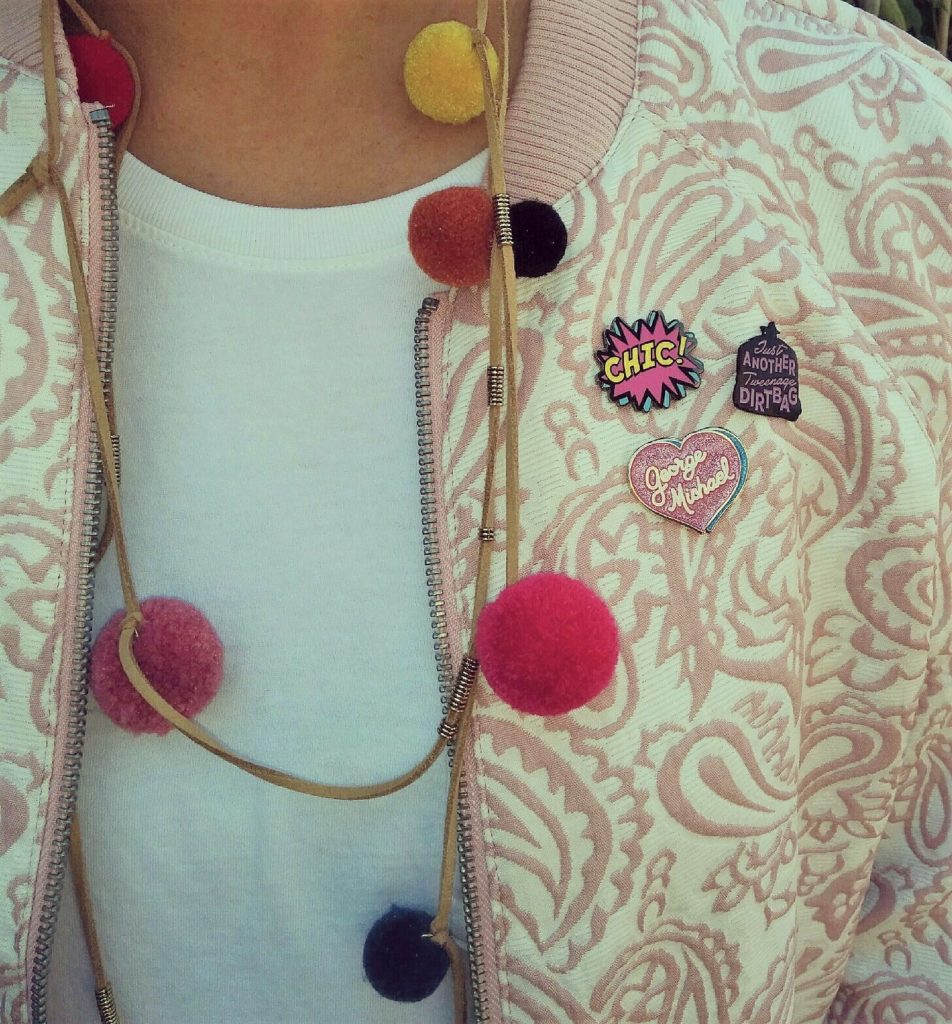 Pom-Pom necklace purchased at Vocabulary Boutique; Chic" pin by Pin Drop; "Just Another Tweenage Dirtbag" pin by Pretty Nobody Co.; "George Michael" pin by Bang-Up Betty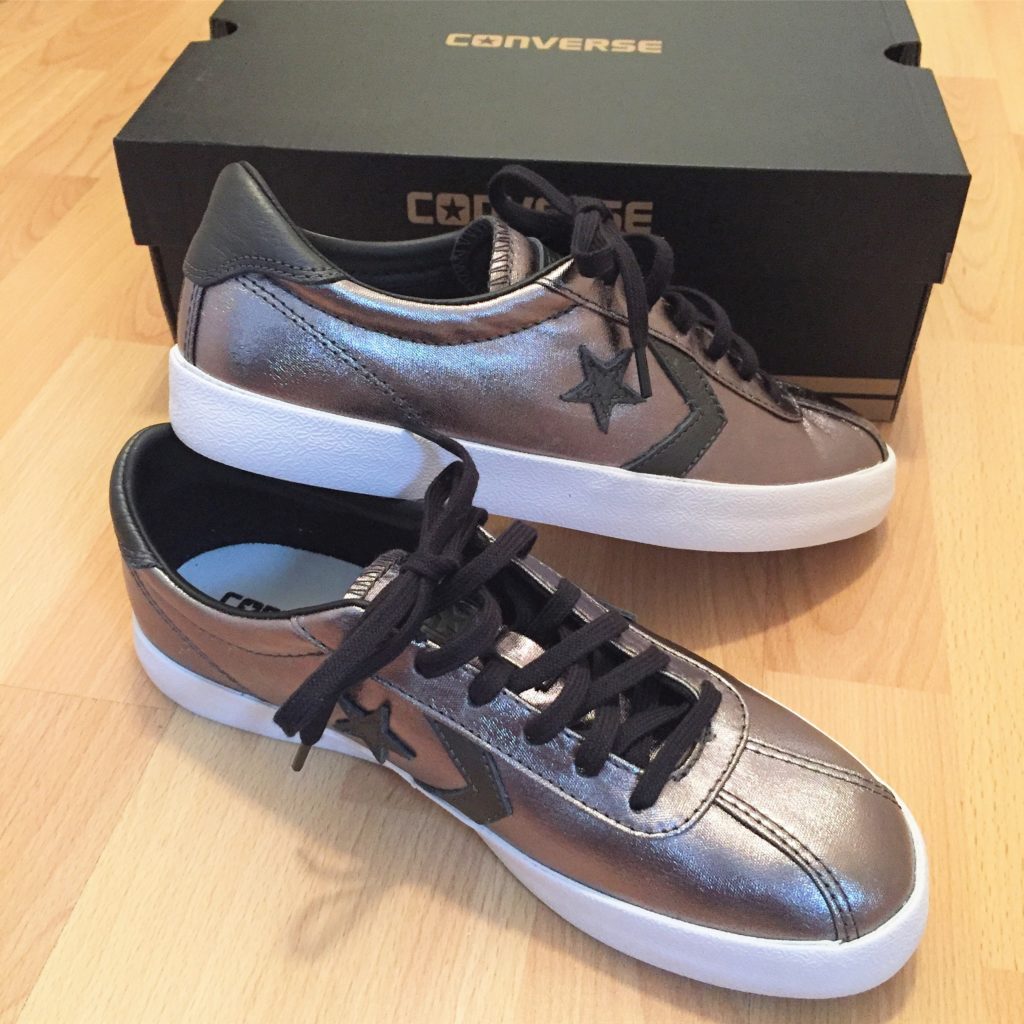 Breakpoint Metallic Canvas sneakers by Converse
---
Birthday Adventure 2017:  THE FOOD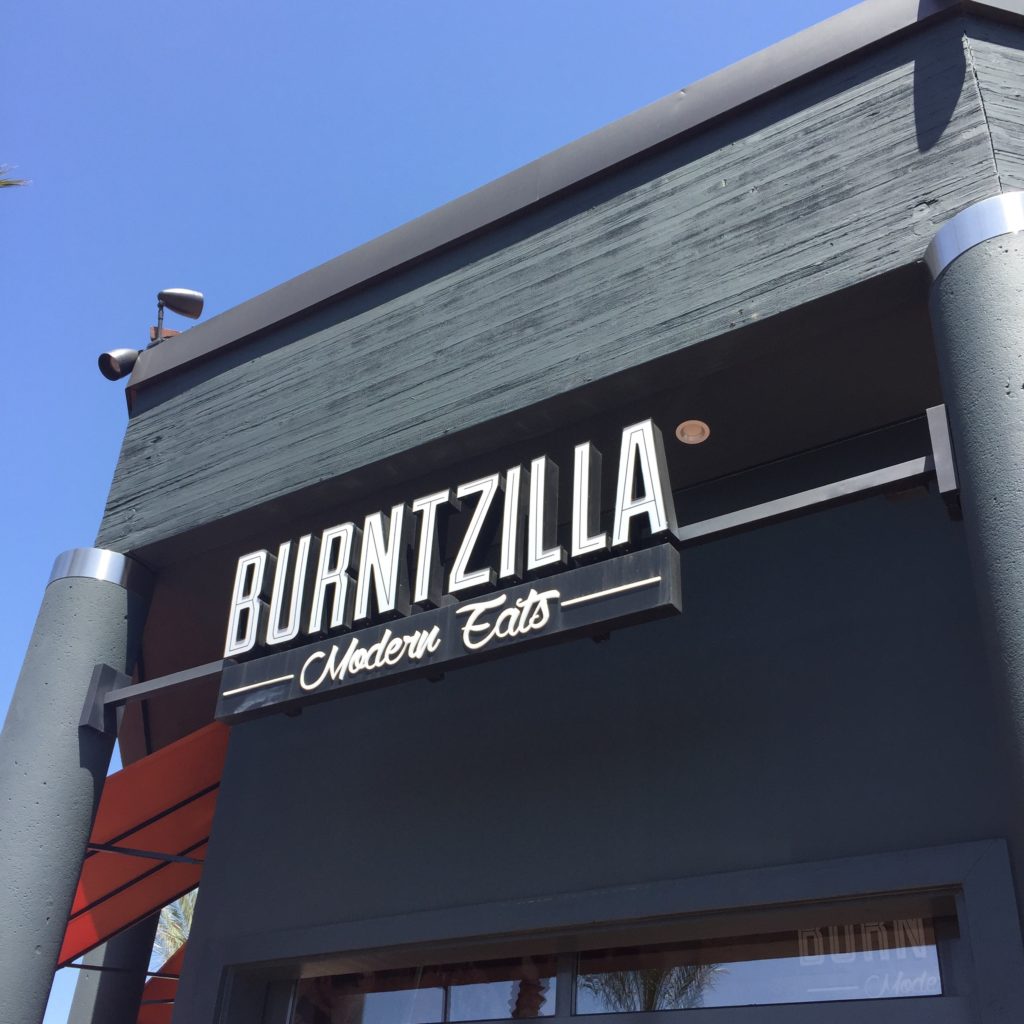 Our food adventure began at Burntzilla (menu here) and ended at Stax Cookie Bar (we didn't actually eat at Hello Kitty Cafe).
Burntzilla is a brick & mortar cafe, combining two of Orange County's popular food trucks: Burnt Truck and Dogzilla.  We originally had other plans to visit a place that served specialty tater tots, but unfortunately it was closed on Mondays.  Since I was in the mood for tater tots in any form, I searched "tater tots Anaheim", and Burntzilla came up (although the location is in the Irvine area).  I love a good slider, so the menu was appealing because it had different variations on sliders and mini-hot dogs.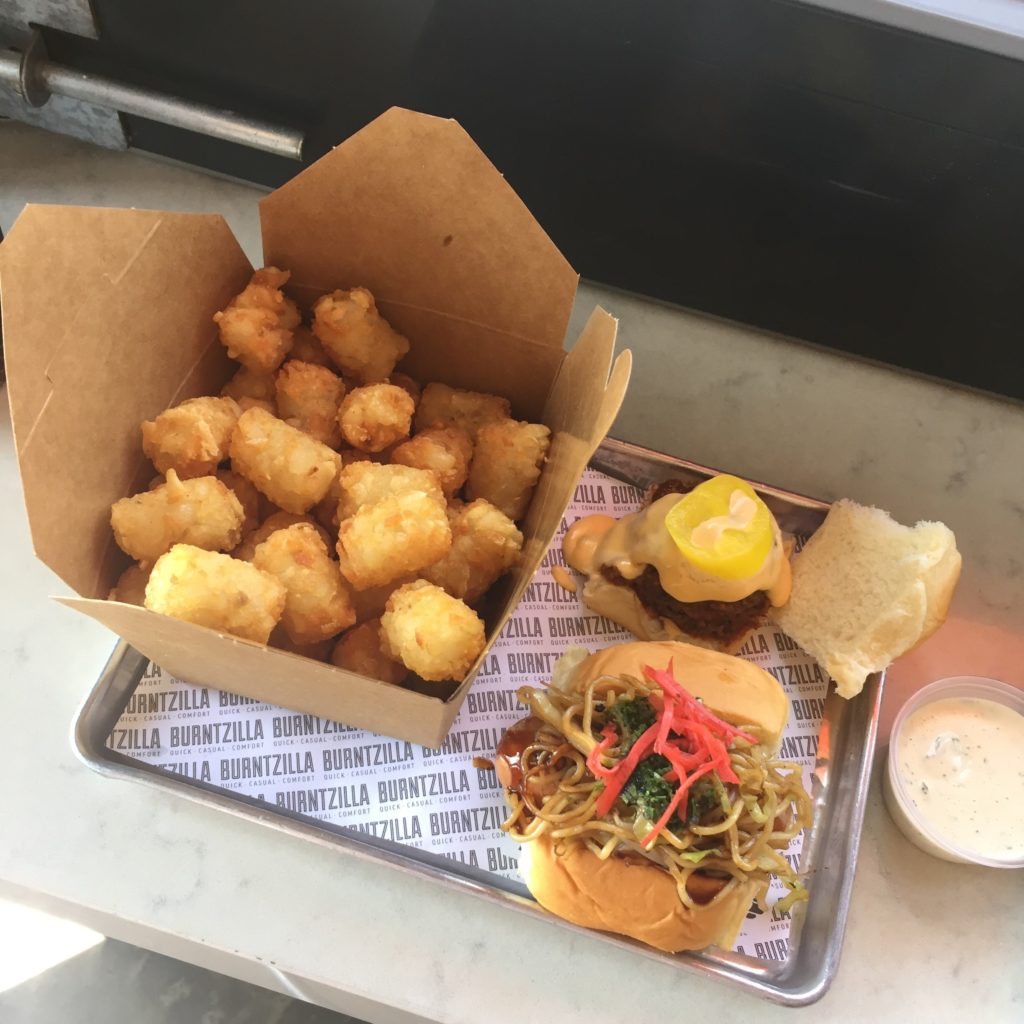 The folks at Burntzilla generously gave me a complimentary Golden Combo for my birthday!  The Golden Combo is a great deal because you can get two Sliders or Zillas (or one of each), with a soda and naked side.  Along with the tots, I had the Yaki Zilla (hot dog) and the Sloppy Joe Slider.  Both were amazing and the tots made my meal perfect!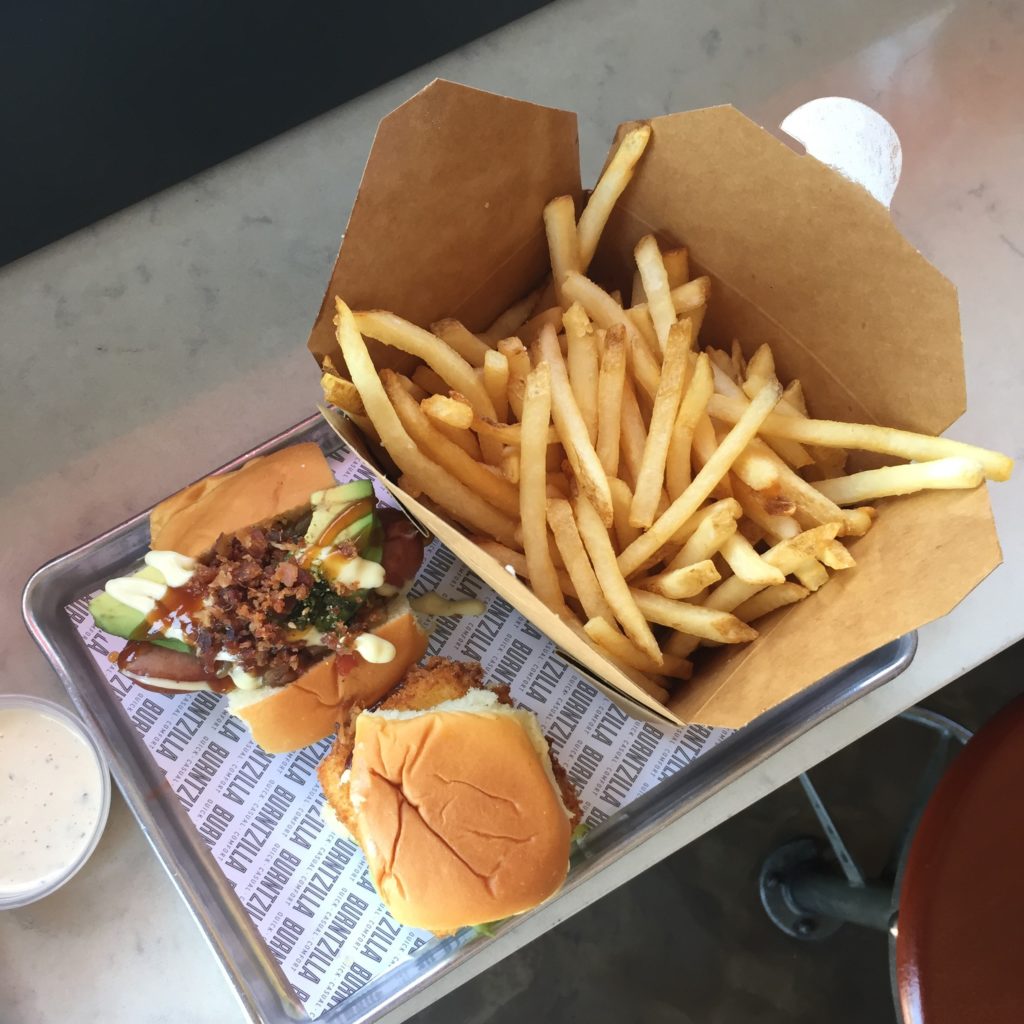 My sister also had the Golden Combo, but had the Dogzilla, Cheeseburger Slider and fries, since I had the tots.
For dessert, we wanted something out of the ordinary.  On the fly, my sister hit the dessert jackpot in her search while we were literally on the road, and found Stax Cookie Bar, right across the street from UC Irvine.  Based on the pictures below, you'll see why!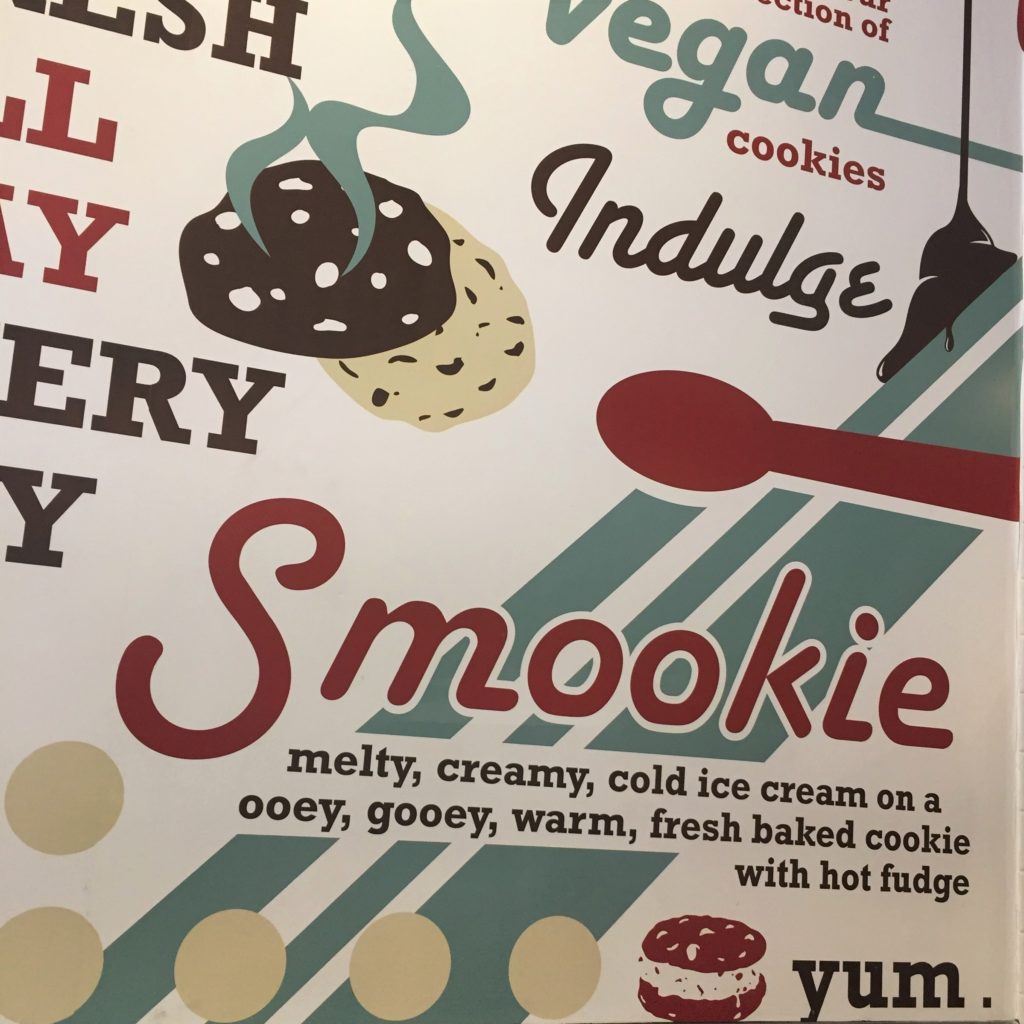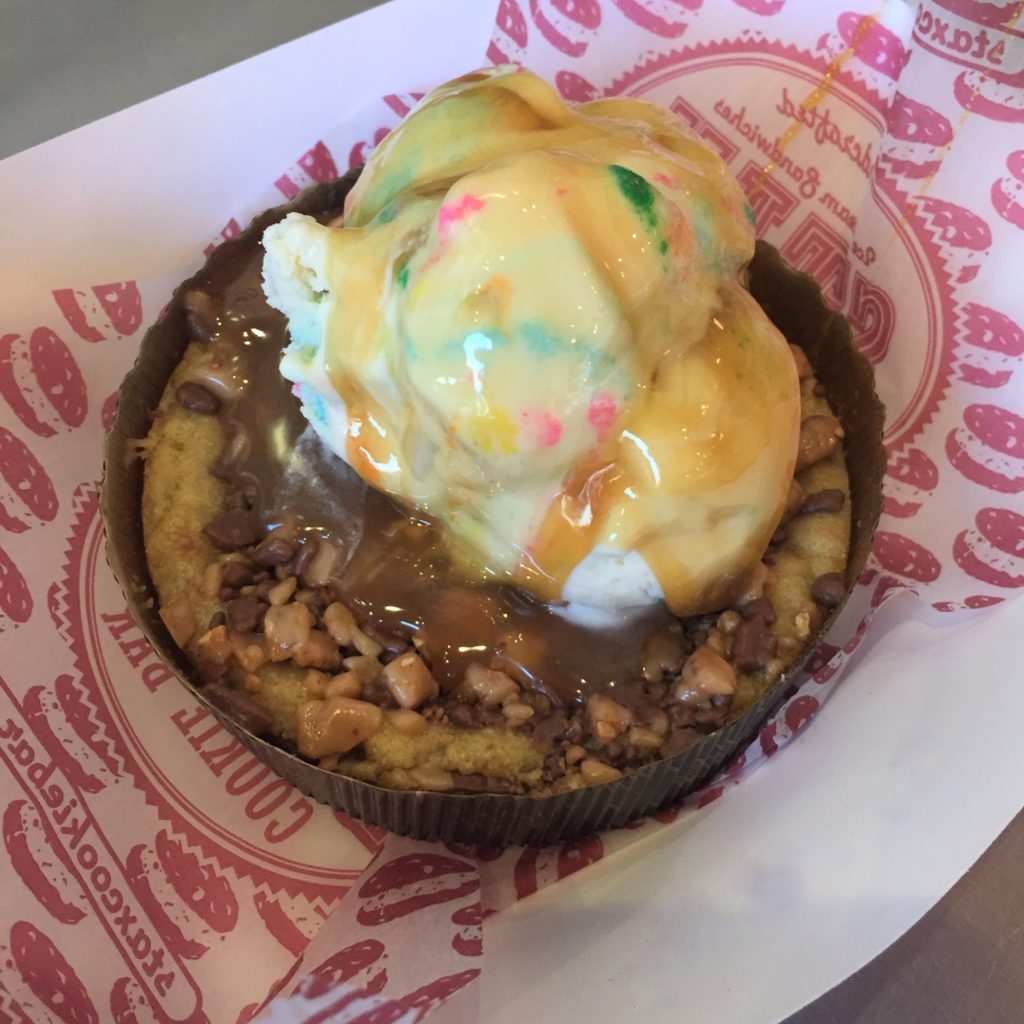 This is the Smookie.  Stax has a variety of filled cookies to choose from, and you can top it any way you desire.  Since it was my birthday, I had the Snickerdoodle cookie (filled with Nutella) topped with birthday cake ice cream and caramel sauce.  I can't even begin to describe how decadent it was!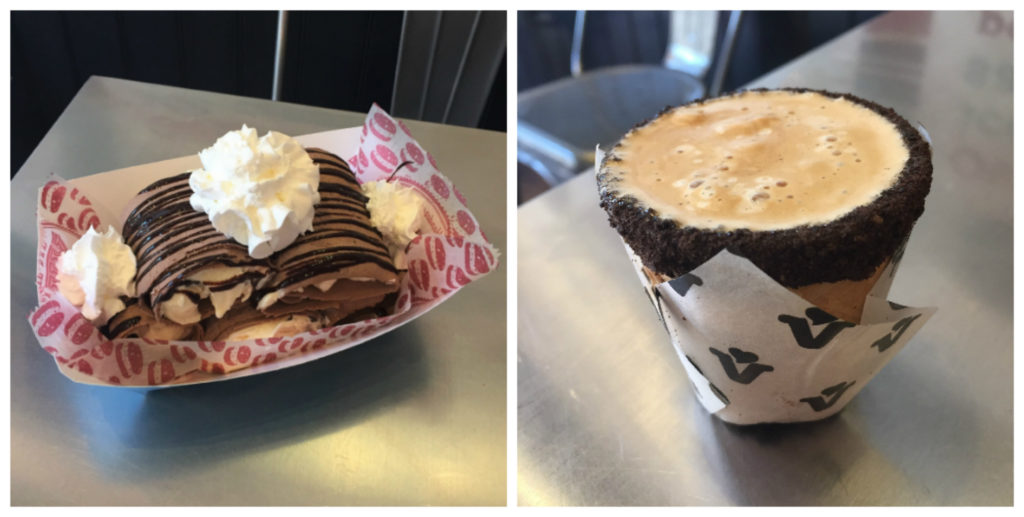 On the left is the Bacon Chocolate Chip Creamrito, which my sister attempted to get through.  The Creamrito is rolled ice cream wrapped around more ice cream and other yummy fillings.  This truly is a two-person dessert, and we do plan on coming back up and doing it justice because it was quite delicious.  On the right, is the famous "Waffle Shot" by Zia Valentina.  I had my first one at The Grove, but the one I had at Stax was espresso with ice cream at the bottom of the shot.  Yes, it was as good as it sounds!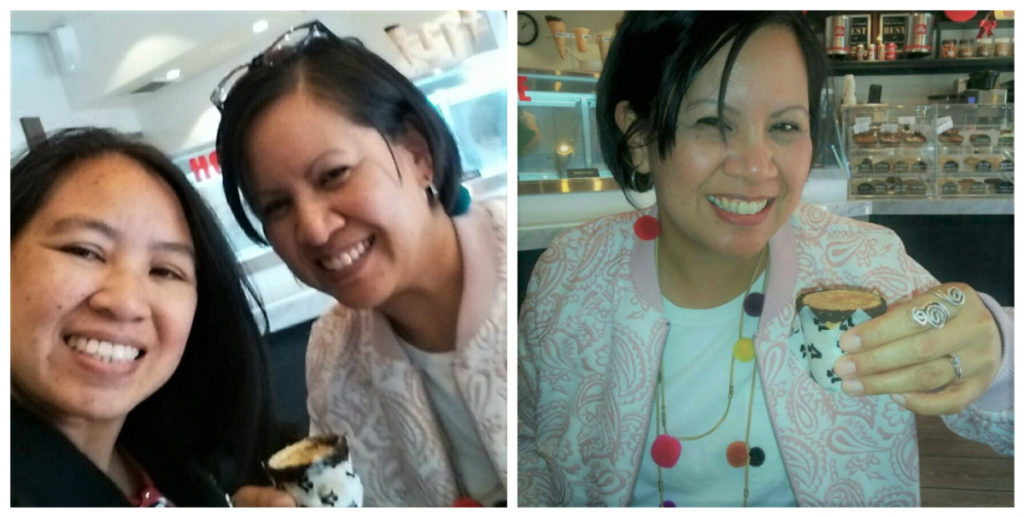 I had a great time on this mini-food adventure with my sister, who gifted me with several new pins, because well, she's my sister and knows what I love!  Thank you Rholnna for spending my birthday with me, and here's to more foodie adventures to come.  Cheers!