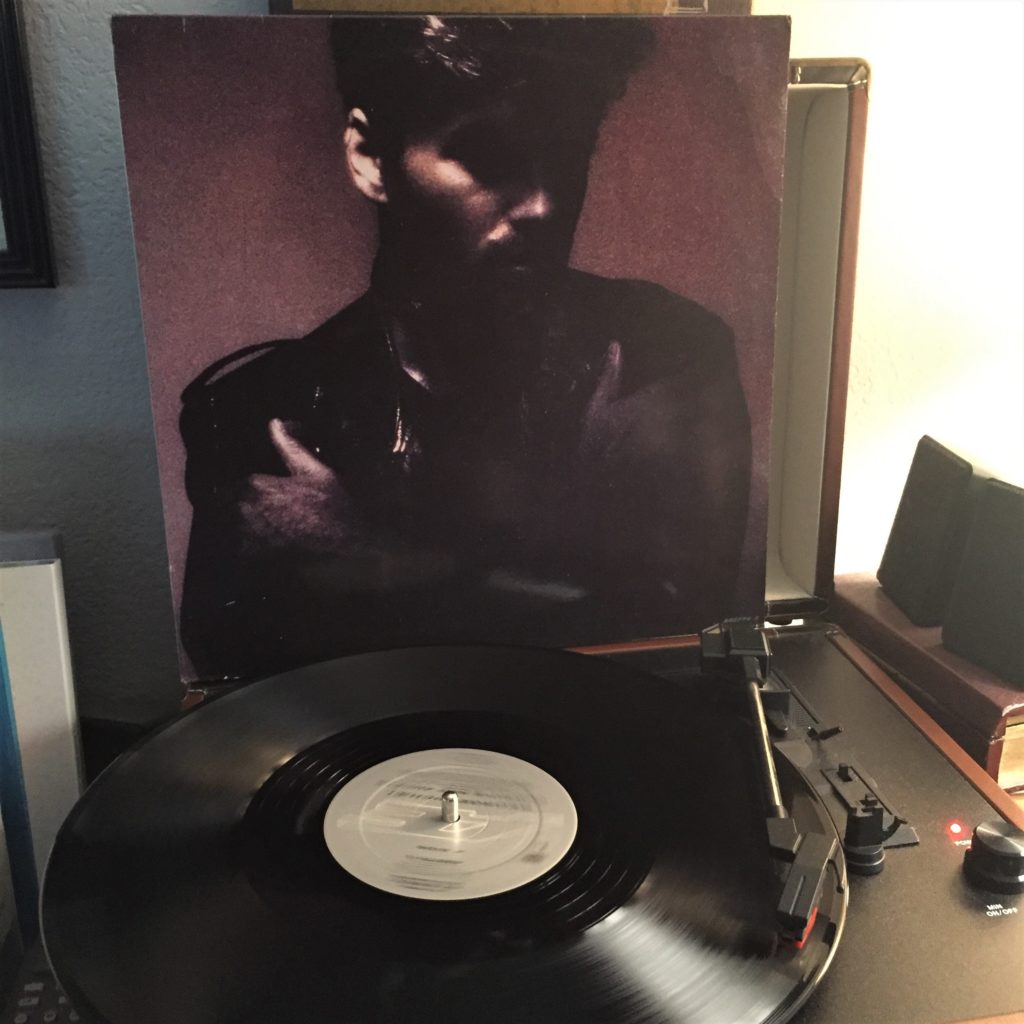 I absolutely cannot believe it.  I have to say goodbye to yet another favorite artist in 2016: George Michael passed away on Christmas Day.  I truly thought we could escape another passing in 2016, but alas, it was not to be.  I was looking at pictures of the record collections of some people who I follow on Instagram, when one of them mentioned that he was sad that George Michael had passed away.  In disbelief, I exclaimed what I just heard to my husband and rushed to the computer.  Instantly, my fears were realized and George Michael was gone.  At that time, information was scarce, but it soon came to light that he passed in his sleep due to heart failure.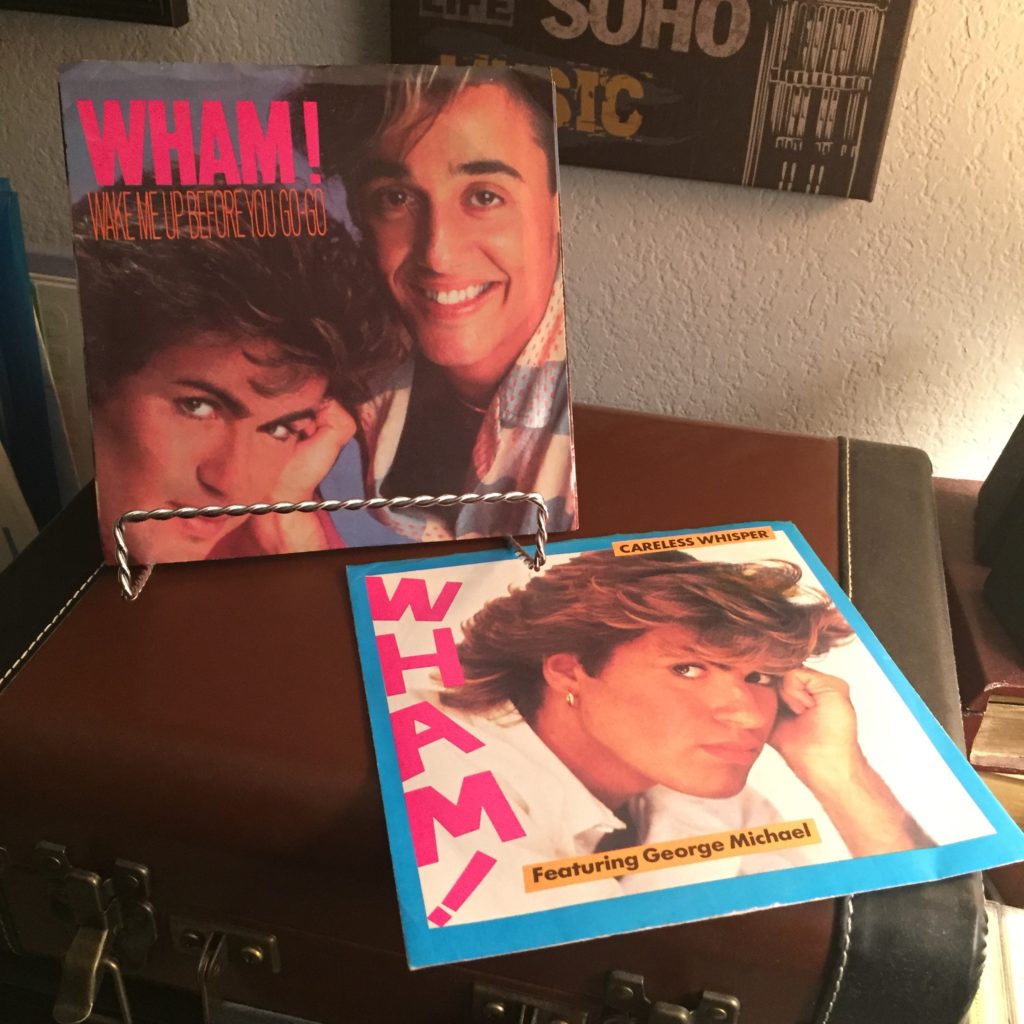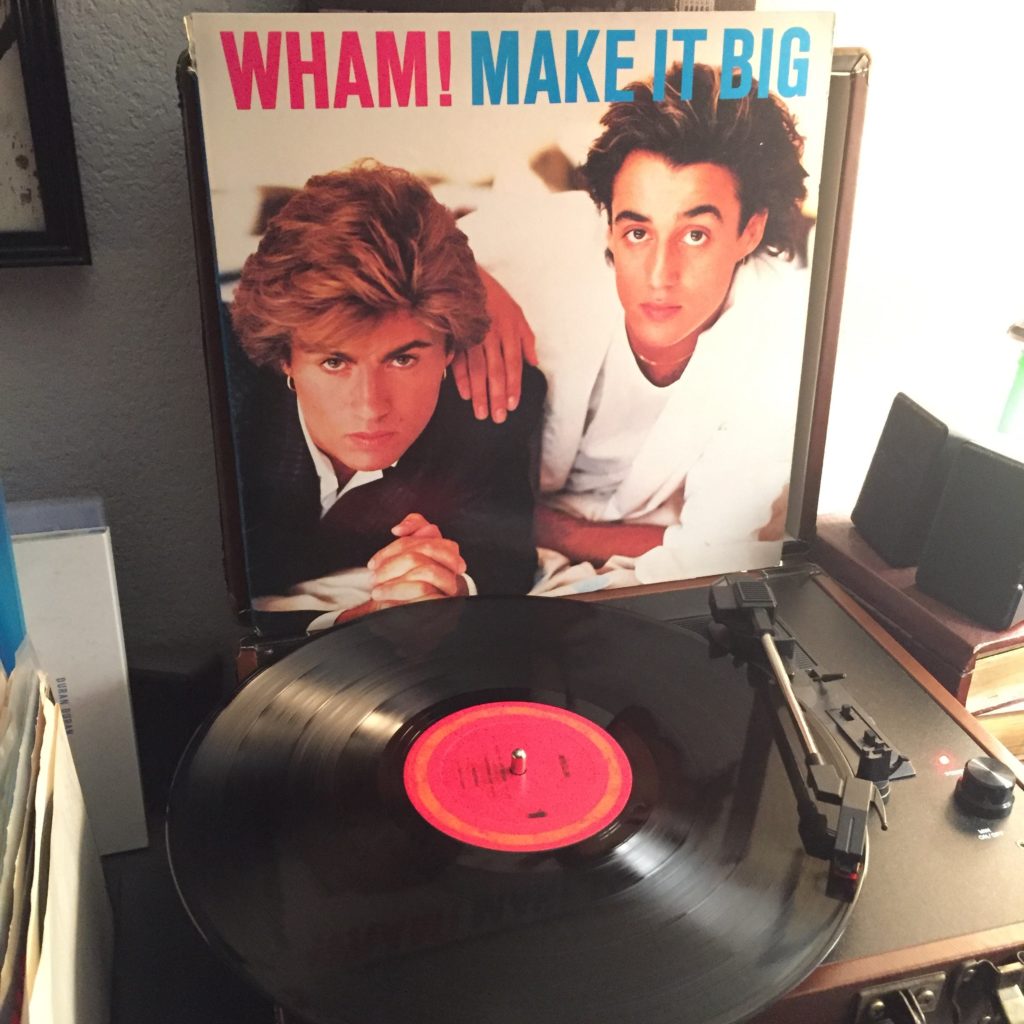 I came to know about George Michael when he was in what I first heard about Wham! UK.  I remember going to The Warehouse at Plaza Bonita (a former chain record store), asking for the newest Wham! UK song.  The person behind the counter answered, "We don't have Wham! UK, but we have Wham!  Is that the same?"  He handed me the seven-inch single, which was Wake Me Up Before You Go-Go (pictured above).  I was 14 at the time, so I just smiled and paid for the single.  My mom bought me and my sister the Make It Big album, and soon Wham! was everywhere.  I never saw Wham! in concert because I don't recall them ever touring in San Diego.  I also don't recall the exact moment when I heard that Wham! dissolved, but I did purchase their last musical effort in the US called Music From the Edge of Heaven.  I'm Your Man is one of my all-time favorite songs, and the album itself is quite wonderful.  I still listen to it to this day over both Fantastic or Make It Big.  In my senior year in high school, I distinctly remember missing out on seeing George Michael live because the concert sold out very quickly.  One of my classmates said that he had concert tickets and went to retrieve them from his jean jacket pocket, only to see that his mom washed his jacket and with that, his tickets.  I'm happy to report, that has never happened to me.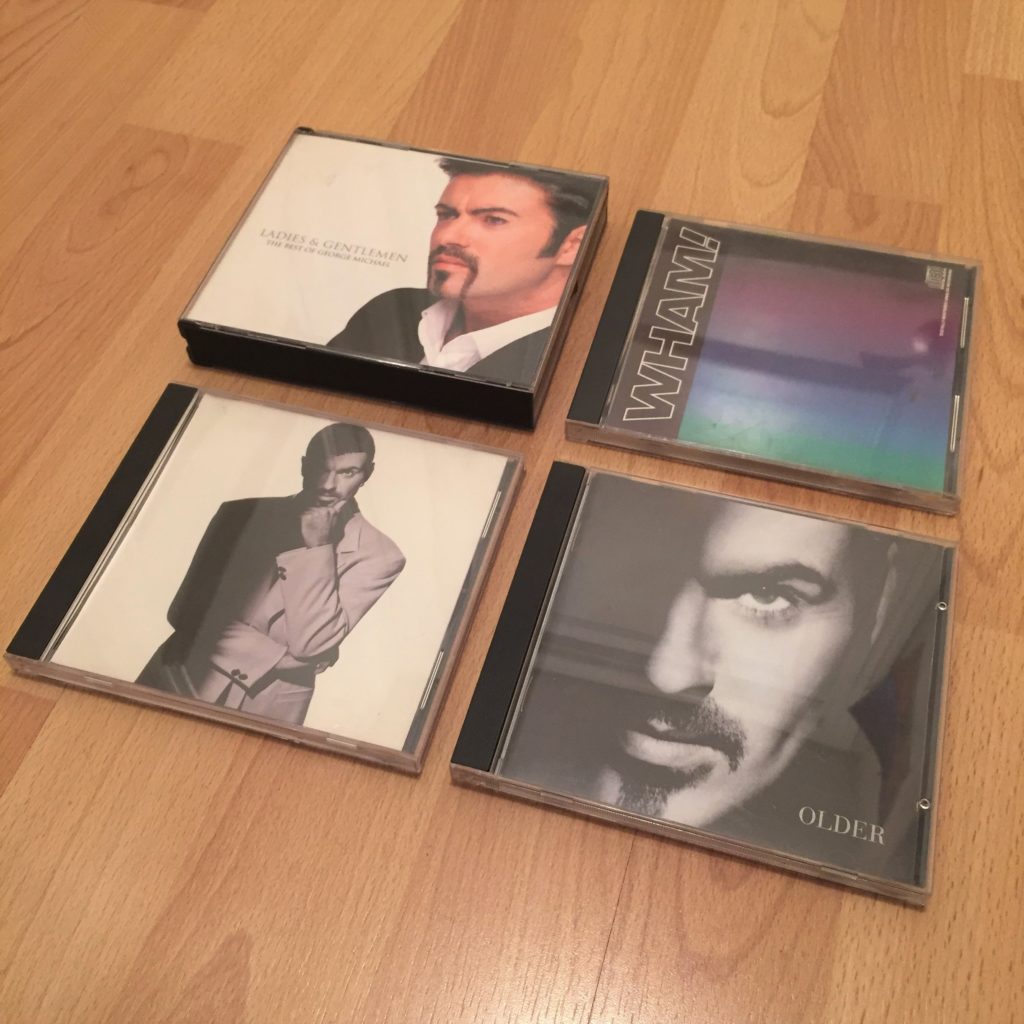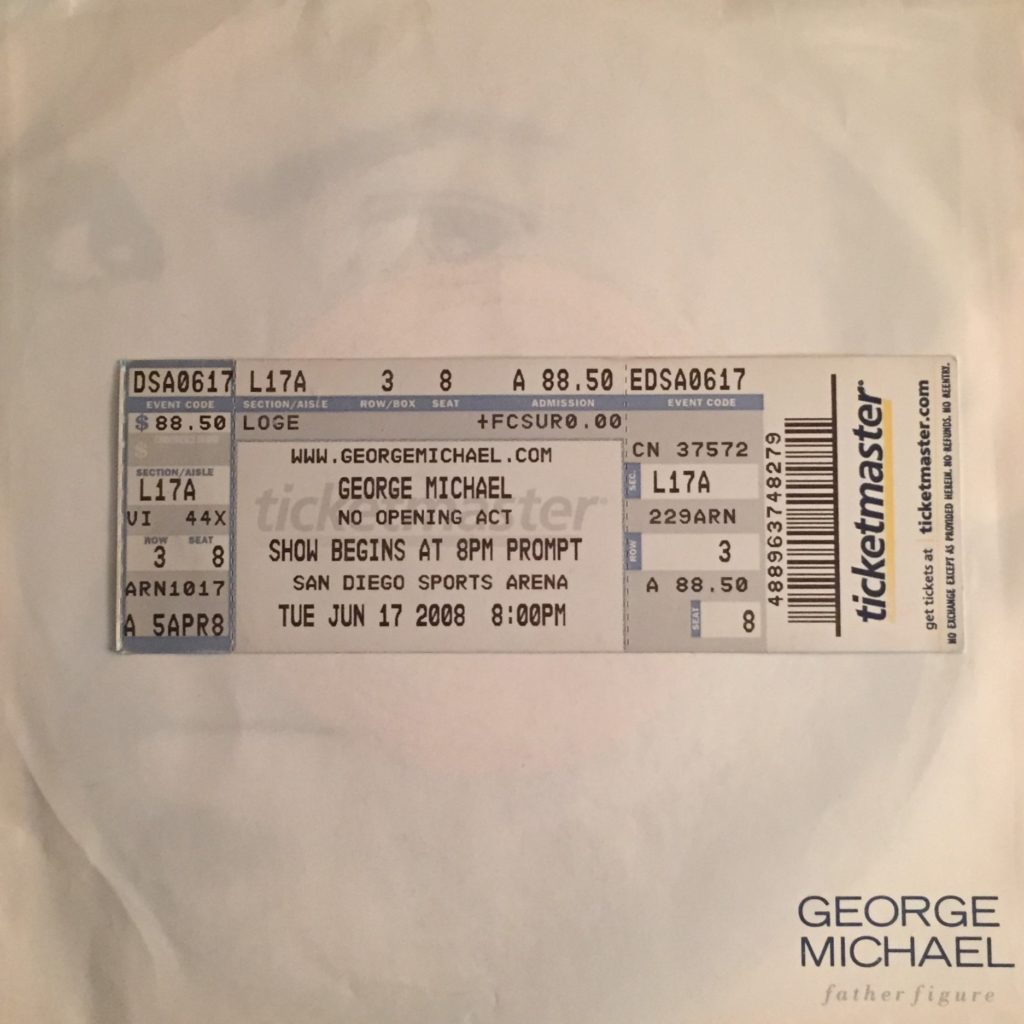 I finally saw George Michael in 2008 with my sister, Rholnna, and best friend, Janice.  It was a fun night filled with hits from his days in Wham! to his own amazing music.  I remember thinking, "I just want to hear I'm Your Man, Father Figure, Hard Day, A Different Corner and Careless Whisper and my life will be complete…"  My wish was granted and I got to hear all those songs live, including so much more.  Prior to the show, a band of friends dressed in 80's gear roamed around the arena and asked random people to "Pose With George".  Silly me obliged and here is my only picture with George Michael from his concert (and the set list below).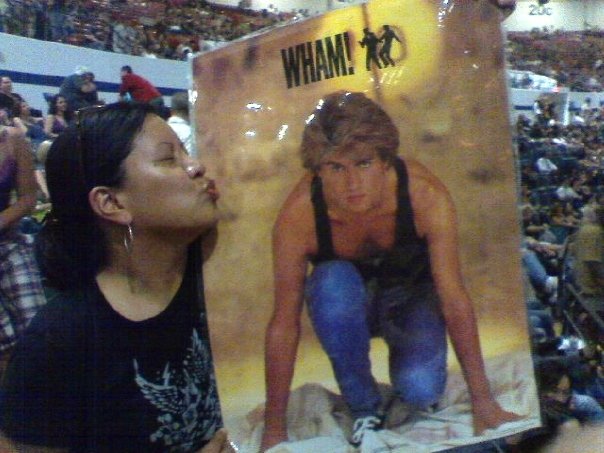 It was also memorable because not only because of Mr. Michael himself, but because it was a day after the announcement of same-sex marriage being legal in the state of California.  During the show, he said something to the effect of "I heard a lot of you ladies were able to get married yesterday!"  My mind instantly traveled back in time, and I recalled my friends and I having discussions about George's sexual preference due to the Wake Me Up Before You Go-Go video because although we all had his pictures up on our walls, there was always a question about his sexuality  in the back of our minds.  It got even more confusing when the I Want Your Sex video came out, hearing that he was dating the girl who was staring in the video with him (Kathy Jeung).  No matter what the circumstances are or what swirls around the gossip columns, I always want my idols to be happy because in the end, they will continue to do what they love, which means I get to enjoy a wealth of their artistry.  I mean, David Bowie released an album right before his untimely death at the beginning of this year.  I worry about my idols and I think that's why this year has been difficult.  I care about the music so much, but I never forget that there are people behind the hits with emotions and lives to live.
I have read a couple of things that give me such mixed emotions about George Michael: how he was recently afraid to face the public due to his weight gain and then news about his quiet generosity.  I'm saddened by the fact that George became recluse in his last days because he was nervous about how he would be perceived by the public.  I know we all have an image of him, but it was his voice and musical talents that have endured over the years, and that's what I will remember about him most.  I also find it heart achingly lovely that he gave so much to so many charities and people over the years.  I read recently about how he gave a large tip to a waitress who was upset about her debt and that he donated a generous sum of money to a charity at the same time annually.  One charity even stated that they would not have been able to stay afloat had it not been for George Michael's financial backing.  These are the instances that make the images in those posters on my walls when I was a teen come to life.  This is what makes me ache and cry over their passing.  Last Christmas will be a bittersweet testament to the sadness of lost love during an otherwise joyful holiday season, as well the loss of a beloved artist.
Farewell George…
(Top image is the "Cowboys & Angels" 12-inch single.  All pictured items are from my personal collection.)